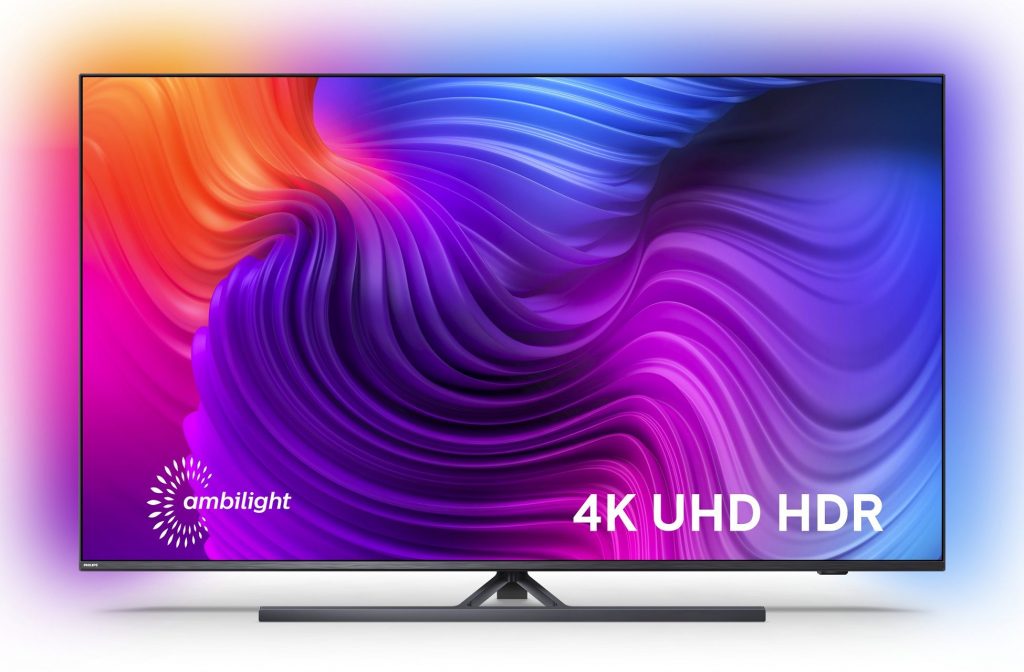 With new flagship models coming out every year, sometimes it's easy to miss the trickle-down technology making its way to more affordable models. Today we look at the Philips 58PUS8556 and see just what exciting tech has arrived in this mid-range TV.
The Philips 58PUS8556 certainly looks great on paper, with an expansive 58-inch screen size standing out from the competition when it comes to supersize TVs. There's also the inclusion of Philips' own Ambilight technology to give even greater immersion for games, movies and sports. This uses an LED array on three sides of the TV which reflects the content on the screen itself and shines onto the surface behind the set. It's an impressive feature even if it appears a little gimmicky at first. We'd certainly recommend seeing one in person before writing it off.
Looking further down the spec sheet we see 2 HDMI 2.1 inputs for the new generation of games consoles bringing faster refresh rates and enhances game modes such as Variable Refresh Rate and Freesync which normal occupy marketing spots on far more expensive models. It's certainly refreshing to see Philips considering those who perhaps can't afford the most expensive models, and bringing these features to a new price point.
In terms of high dynamic range content this model continues the Philips stance of supporting both HDR10+ and Dolby Vision for a best of both world's option. We often wonder why other manufacturers can't follow Philips's lead and offer the two best content options in one television. In a practical sense it means the best of both Netflix and Amazon Prime video content in one place. This is further supported by an 8+2 FRC panel which offers a wider colour pallet. Altogether, it's an enticing range for a TV at this price point.
The 58PUS8556 offers Philips's Android TV interface for a selection of smart services such as Freeview Play, Netflix, Amazon Prime video and Disney+. The system has come a long way in a short space of time thanks to intense work from Google and Philips and its now incredibly snappy thanks to the improved P5 processor. There are very few apps missing from the selection here and we think it's a great system for most people this year.
Speaking of the new processor, the P5 picture perfect engine has been updated this year for Philips' cleanest and sharpest picture yet. This creates clarity for non 4K content and ensures there are few imperfections with native content too. Elsewhere we see the rare headphone jack and Bluetooth both present which makes for a nice change and a central pedestal stand with swivel built in. All these little touches show Philips has responded to customer feedback and aimed to offer as many pleasing features as possible at a competitive price point.
When it comes to unboxing the Philips 58PUS8556 we find the swivel stand quick and easy to install and it has an impressively premium feeling frame. Last year's model has a light silver plastic frame but this year we see a gunmetal grey metal finish which clean lines and chamfered edges. It's a noticeable upgrade and we already feel like Philips has stepped their game up this year.
Setup is a breeze with a few sign ins to Google and other services before we're up and running. We connect a Dolby Atmos enabled soundbar although the sound on this model is relatively good for a modern slim line television. To test the compatibility and picture quality we fire up Disney+ and the new Mulan movie in Dolby Vision and Dolby Atmos.
Immediately, we can see there isn't as much difference between this and a flagship LCD TV as we'd expect. The picture is bright and punchy without drowning the dark parts of the screen. Blacks are rich and inky and not washed out, certainly better than we are used to seeing on TVs of this price. We're also impressed with the off-angle performance, which is more consistent at far more extreme angles than we're used to on a TV at this price. We think this is a conscious decision by Philips to cater for bigger living rooms along with the Ambilight and slightly larger screen size. It all adds up to a TV which should offer a great experience for a big family or group of friends. This even includes the Dolby Atmos compatibility over eARC which worked seamlessly when we tried it.
We also tried some broadcast television which while not native 4K resolution the P5 processor did a great job of upscaling to create a sharp smooth image with little jaggedness or rough edges which can sometimes appear on budget 4K models.
All in all, we were very impressed with the Philips 58PUS8556. The built, smart system and picture quality add up to a quality television which offers the question 'Why pay more?'. Of course, more flagship OLED or Neo QLED televisions offer more for the increased cost but for many people this will be all the TV they need, and it will be a huge jump forward from even a few years ago. To see for yourself what makes this TV so special, why not contact your local Richer Sounds store today?
Find out more about the Philips 58PUS8556.
Author: Robert, Reigate store