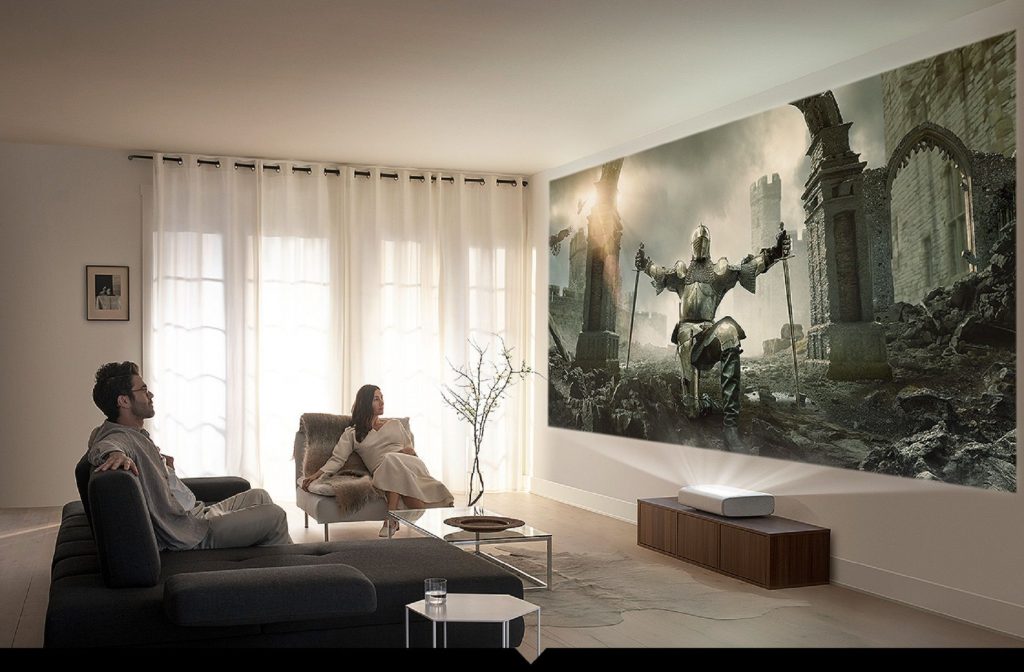 It's time to go big at home with the next generation of living room projection – introducing Samsung The Premiere.
The production quality of big budget TV shows and blockbuster movies, as well as the sheer choice of live broadcast sporting events, are just some of the reasons that demand has increased for high-quality large screen entertainment experiences at home.
You can find a whole host of large-screen premium TVs on the market right now, but the versatility and larger displays offered by projectors has seen them light up more and more living rooms.
Samsung's The Premiere LSP9T is a lifestyle projector that can create a display far bigger than the average TV. It offers dramatic picture quality and spacious sound, but what really sets it apart is its ultra-short-throw technology. Unlike traditional projectors that require three to four metres of distance from a wall for optimal picture quality, The Premiere can deliver a display size of up to 130 inches, when placed just 23.8cm away from your wall, offering a grand screen using minimal space.
Not only can you make the most of your space, but The Premiere can also help you make the most of whatever you love to watch. Using unique and cutting-edge triple laser technology, it delivers rich and vibrant picture quality. This laser-enabled projector recreates colours more accurately, produces less heat and offers a longer lifespan, all of which provides you with endless immersive, ultra-large screen entertainment experiences at high resolution with pin-sharp clarity. And its dynamic 4K resolution means The Premiere is an entirely new projector experience. Conventional projectors can offer resoundingly average colour vibrancy and picture quality, but Samsung has incorporated its industry-leading TV technologies into The Premiere so that you can enjoy dynamic, 4K resolution on a bigger screen.
The Premiere is also the world's first HDR10+ projector. This means that even during daytime viewing, you can still enjoy cinematic picture quality. With a maximum brightness of 2,800 ANSI lumens, equivalent to 2,800 candles, your favourite shows will look sharp and clear regardless of the surrounding ambient light conditions.
When it comes to sound, The Premiere produces three-dimensional, captivating audio without any extra speakers required, thanks to the robust sound system built into its compact design. Powerful 4.2 channel 40W speakers project sound with significant height and width to convey every bit of even the most action-packed audio. It also features Samsung's proprietary Acoustic Beam technology to maximise sound from all angles, so regardless of where you are sitting in the room, you'll be engaged and entertained. Great for when you have friends over for movie night or a big match.
Just like Samsung's leading Smart TVs, The Premiere offers Smart features and access to hundreds of hours of entertainment on streaming platforms including Netflix, Amazon Prime Video and Samsung TV Plus, as well as music streaming services like Apple Music and Spotify. Staying entertained is simple with this amazing lifestyle projector.
The Premiere also supports the 'Tap View' feature to mirror the content playing on your smartphone to your projector, allowing you to show off content you've created on a grand scale. By simply gently tapping the side of The Premiere with your device, you can easily cast videos from your smartphone straight onto the bigger screen.
According to TechRadar, 'the Samsung Premiere is the most comprehensive and all-round successful living room-friendly projector solution we've seen to date'. They awarded it Best in Class for stunning picture quality and sound quality that may be the best heard from any projector.
If you're ready for a seriously massive, seriously epic home cinema experience in your living room, take a closer look at Samsung's cutting-edge The Premiere LSP9T.