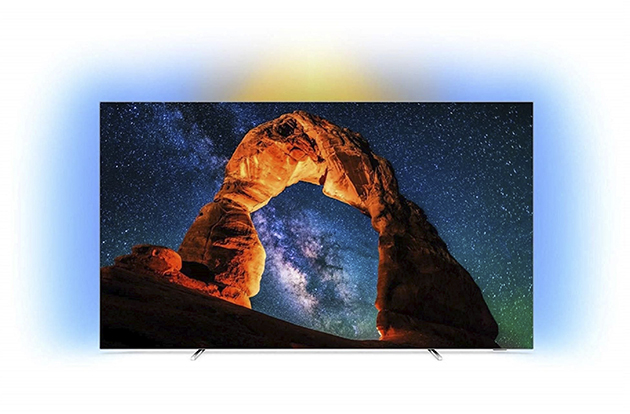 Philips delivers an award-winning OLED set that places them amongst the top TVs in their class…
Historically speaking, Philips, the legendary Dutch electronics manufacturer, has always been one of the biggest brands in the business of television manufacturing. Indeed, most people reading this have likely had a Philips TV at home at one time or another, and whilst they may not have been quite as prevalent in recent years, 2018 has seen the company make a serious effort to show that they're still very much in the game. And what better way to show you mean business than with a pop at the very top of current TV tech: OLED. With the release of the OLED803 range, Philips has categorically put itself back amongst the industry's big players, with a host of truly unique features, and most importantly, superb image quality. Let's take a closer look…
The range is available in both 65″ and 55″ screen sizes, the latter of which we'll be looking at here. As soon as the 55OLED803 is taken out of its packaging, it's pretty clear that, physically at least, this is very much a premium TV. In keeping with most modern range-topping televisions, the OLED803 has very little in the way of a bezel, giving it an uber-modern, super-chic look that would  look great just about anywhere. Philips have opted for the dual feet arrangement of most modern TVs, doing away with a central stand and helping to keep the minimalist look intact.
Undoubtedly the unique selling point of the OLED803 is Philips' long-favoured Ambilight technology, which is implemented to superb effect here. Utilising rows of LED bulbs embedded in the back of the TV, Ambilight works in tandem with the TV's display and processor to mirror colours that are being displayed on the screen (i.e. green grass in a football match), and projecting them onto the rear wall behind the TV itself. What this does in practise is create a wonderfully immersive and room-filling burst of colour, that brings you more into the action on the screen.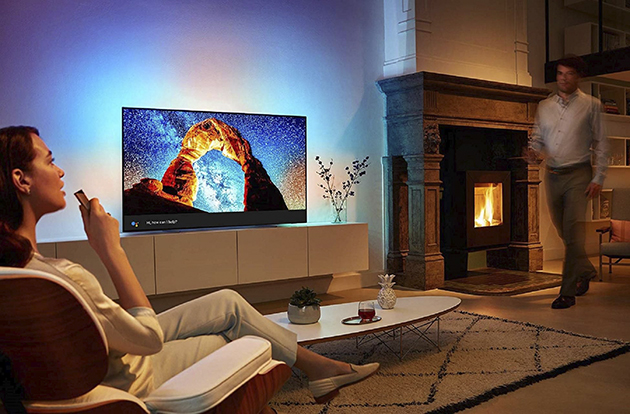 There are a multitude of options that allow Ambilight to be tweaked and tailored to the users own preferences, but we felt that it really did add an extra 'dimension' to anything and everything that we watched. Whether the TV is wall-mounted or on the feet that are supplied, the technology works brilliantly, and it completely validates Philips decision to stick by it. No mere gimmick, Ambilight is almost a reason to buy the TV in itself – it's really that good. 
It also very handily ties it itself in with what is likely Philips best known line of products in recent years – its Hue Smart lighting range. Hue is the most popular Smart lighting platform on the market, and the technology used to power Ambilight is the same found in the Philips Hue range. That in turn makes Philips' choice of operating system for the OLED803 – Google's Android – an even more prescient one. Using the Android platform allows the Ambilight system incorporated into the TV to work alongside any Hue bulbs you might also have in the room, making for an even more immersive experience, and is truly a setup that is unique only to Philips. Of course, Android also brings its own benefits, with a wide-range of Smart content available to watch and access to the Google Play store for plenty of extra apps services.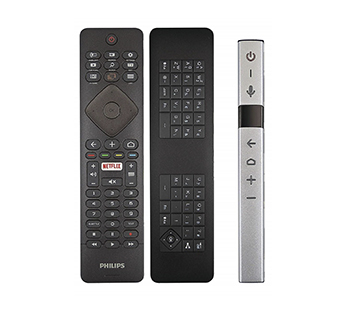 Elsewhere, two remote controls are provided – and both are slightly unusual! The main remote control looks to be as normal as any other – until you flip it over. On the reverse of the remote is a full QWERTY style keyboard, as well as a whole load of other useful buttons that make navigation of Smart features particularly easy – no more scrolling across on-screen keyboards to type in the name of your favourite TV show! The other remote provided couldn't provide a starker contrast, being a very thin, elegant and above all simple wand design, containing only the absolute basics for navigation, including a microphone button for easy access to voice-search.
Besides all of the usual connections and fittings found on the back of most TVs, two things in particular standout around the back of the OLED803. One is the three rows of bulbs used for its Ambilight technology, and the other is the 'triple ring' speaker design that helps to make the '803 one of the best sounding televisions currently available. These three drivers allow for deep, punchy sound, helping to get the most out of TV shows and movies alike.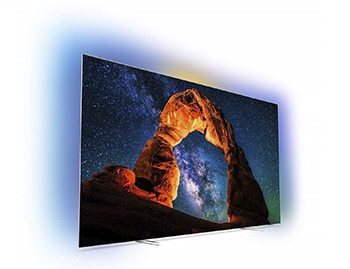 All of this would obviously be moot without the OLED803 putting in a solid shift in the picture stakes, but happily it absolutely does the business here, too. After a few tweaks to picture settings to best suit or demonstration room, the OLED803 showed itself to be every bit the range-topper that it is and looked particularly brilliant when reproducing vibrant colours. The OLED803's ability to render dark scenes was equally impressive, with black level reproduction and contrast right up there with any OLED we've seen.
As expected, Philips have made sure that the OLED803 is up to standard with its HDR compatibility – this is an Ultra HD Premium certified TV, after all – with HDR10, 10+ and HLG all ready to go out of the box. Again, HDR content looked superb on the OLED803, creating wonderfully rich and vivid images with any HDR source material that we tested.
As testing went on it was obvious that very little at all was going to faze the OLED803, and even as we switched between lower resolution sources, we were still really impressed at how well the Philips handled things. The OLED803 undoubtedly proves that Philips are still a top contender in the television market – and one that clearly looks just as much to the future as to their incredible,  storied past.
Author: Chris, Liverpool store