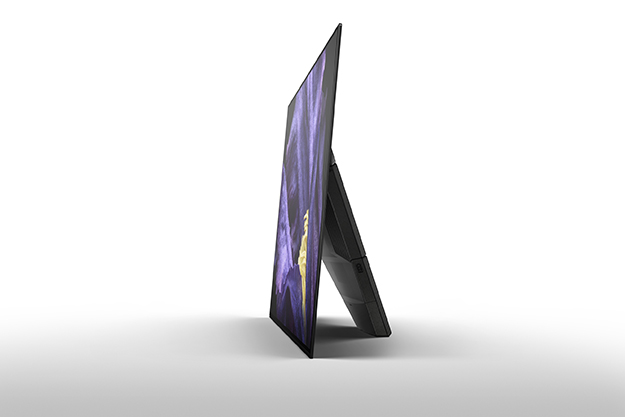 Sony really have pulled out all the stops this year. First with their incredible AF8 and now with the release of the KD55AF9 and KD65AF9 sets with OLED screens. So let's see what Sony's latest flagship series has to offer…
Taking inspiration from last year's mighty A1 screen, the AF9 uses Sony's Acoustic Surface audio technology, but with a third on-screen actuator. This creates a centre channel between the left and right speaker as well as a second bass driver creating a 3.2-channel sound. All of this fits nicely into the A frame pedestal as well as any external audio connections and HDMI inputs. As usual there are four fully supported 4K HDCP2.2 HDMI inputs, as well as a dedicated audio optical, should you wish to introduce a third-party TV soundbar.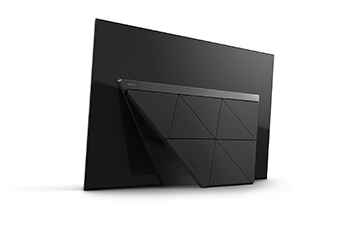 The result of this acoustic surface technology is really quite impressive, the combination of the three actuators offers pin-sharp detail in the high-end, with voices sounding crystal clear and when combined with the two extra subwoofers, it really does offer the whole package straight from the box. Should you find yourself wanting a little more, Sony has also included a dedicated audio output allowing you to include the AF9 in an existing 5.1 speaker system, using the TV itself as a centre channel. Fresh from the box users can take advantage of Android's latest Oreo operating system, the first major Android update in three years. Sony has cleaned up the overall user experience to easily understandable categories, too. Oreo still features all the major catch up services and the usual subscription services. There's even a dedicated Netflix mode that alters the picture on-screen based on what's playing. As this is an OLED screen it's pretty safe to assume that this Sony will offer an incredible viewing experience.
The great news is Sony have not only improved on last year's A1, but also its younger brother the AF8. Watching Transformers Last Knight and putting aside Mark Wahlberg's acting, the AF9 not only offers those signature deep blacks we've grown to love about OLED screens, but combines them with an incredibly colourful palette too! Each of Optimus Prime's signature red flames pop from the screen, and when combined with those inky blacks makes for a pretty spectacular overall image. Using Sony's latest X1 ultimate processor the image lacks nothing – skin tones are more real and there's even an extra layer of added depth. The AF9 also handles movement like a pro, whether it's the sword of a giant robot, or the Sunday football, straight from the box the Sony is ready to go. Like any high-end set the Sony is no different and will benefit a few tweaks here and there, nothing too serious, but with a TV of this calibre you may as well.
Don't forget we are always on the other end of the phone should you ever need any assistance. If you're looking for a 55 or 65-inch OLED TV, the Sony KDAF9 should be at the top of your list. If you're a little apprehensive, or maybe just want to see what all the fuss is about, then pop in to your local Richer Sounds store for a full demonstration.
Click here to learn more about the Sony AF9 TV range
Author: Garrett, Plymouth store