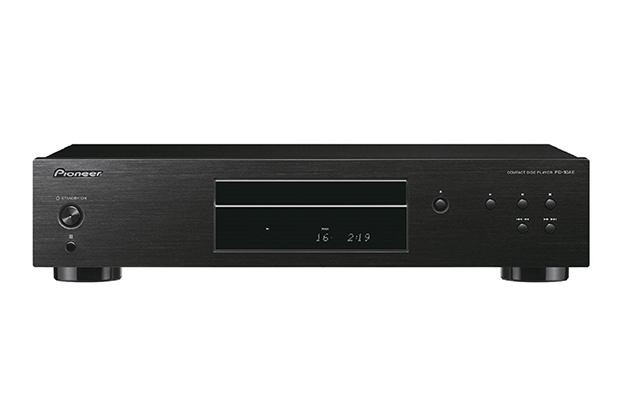 While many may consider all CD players to be the same, simply a disc drawer and an analogue output, Pioneer knows differently…
The magic may not be visible for all to see but what goes on under the hood is incredibly important for the quality of sound that your amplifier produces. That's why Pioneer have designed the PD10AE from the ground up with audio quality in mind. Join us as we examine the choices they've made and see if it adds up to CD player which is worth your consideration.
So, what makes a good CD player? Well, a reliable quiet disc drive is a must, along with a high quality digital-to-analogue converter (DAC) board and a robust analogue output stage. Together these components help to deliver a great sound with little to no noise.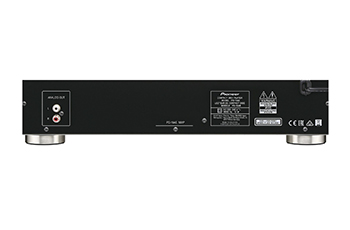 Pioneer started from scratch with the PD10AE CD player. This means that almost every component inside was designed for this particular unit and not taken as an off-the-shelf part. This extends from the power supply to the DAC board, which handles digital signal conversion. We think this reveals a lot about the company and how they conduct themselves. It is certainly not something we're used to seeing at this price point. The PD10AE was developed with the express desire to eek every last drop of performance from the components within. The power supply mentioned previously was developed to be low noise so as not to produce feedback on any other circuits, something which can deteriorate the sound quality. This struck us as exceptional, as not many manufacturers choose to focus on the power supplies for their CD players but it does make a difference, which is why that focus shows up on some of the highest end players on the market.
Pioneer tells us that many CD drives are simply off the shelf models designed for use with PCs rather than audio CD players, but that they've designed this particular drive specifically for its almost silent operation. What this means in practise is that while the disc spins there's very little noise that passes to other components. We think it sounds great as in our tests we found it noticeably quieter than other CD players on the market. The key component here however is the DAC board. This vital component can truly make or break a CD player. The difference between a good one and an average one can be critical. Pioneer has designed this board specifically for this CD player and it shows with very little digital noise on playback. The inclusion of a high precision clock means timing is clean and in good rhythm while delivering an insightful performance, allowing it to compete with more expensive rivals.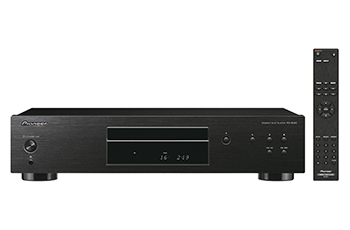 When we sat down with the Pioneer PD10AE we first wanted to try it alongside it's partner amplifier, the A10AE. This allowed us to get a benchmark for what we can expect from Pioneer's desired partnership. We connected this combo to a pair of Fyne Audio F302 floor standing speakers which are some of our favourites at this price point. The performance had great rhythm and timing thanks to the custom DAC board and plenty of heart thanks to the analogue stage Pioneer has included.
The build quality of the unit did take us by surprise, the chassis is steel and it felt weighty in the hand which helps to deaden the whole unit. This means there is less resonance passed to the amplifier via the output stage. To see just how high quality this player was, we hooked it into our regular demo room system of a Roksan Blak amplifier and a pair of Monitor Audio Gold 200 speakers, a much higher end system than you would ever expect to pair with this unit. The Pioneer was a surprisingly decent performer thanks to the unique design and we still enjoyed the playback from the speakers.
Altogether, the Pioneer PD10AE is a marvellous little CD player. It's obvious the care which has been taken over the design and component choice and these pay off when it comes to it's musicality and sense of timing. You could do a lot worse for a budget CD player and we encourage anyone looking for a new CD spinner to consider this amongst their options. To see for yourself if the Pioneer could be for you, why not pop into your local Richer Sounds and give it a spin?
Find out more about the Pioneer PD10AE CD Player.
Author: Robert, Brighton store.