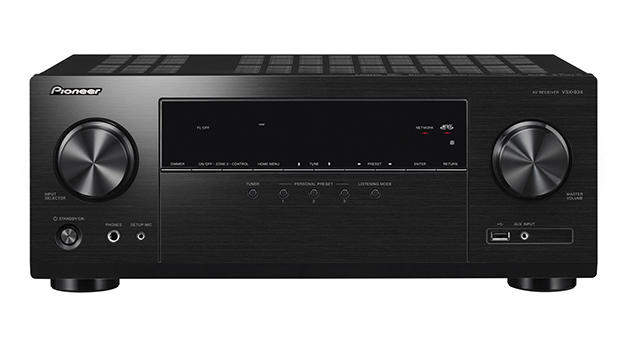 Looking to experience Dolby Atmos on a budget? Then the Pioneer VSX934 may just be the AV receiver for you.
With support for a 5.2.2 setup including height channels, Pioneer has looked to bring Dolby Atmos to the mass market. The question is, does the 934 live up to its billing and do an Atmos system justice? Read on to find out what we thought…
The VXS934 is a direct replacement for last year's VSX933, which was well received for its price point. Pioneer has looked to build on that success with this year's new model. For 2019 they've added new support for Dolby Atmos Height Virtualiser and DTS:Virtual X, allowing the creation of phantom height channels in your setup. These have worked pretty well in the past to replicate the 3D effect of the sound.
Another new feature is support for Apple's Airplay 2. With Airplay 2, you can create your own multiroom system from your Apple device. In practise, you could link your VSX934 to another Airplay 2-enabled device such as a Naim Mu-so wireless speaker allowing simultaneous music to play through both speakers. It's a handy new feature for Apple users and brings us a step closer to a universal wireless internet standard.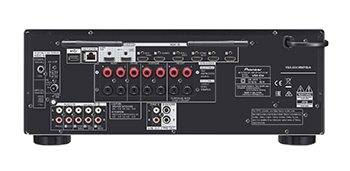 Now we come to the meat of any AV receiver: its performance as a surround sound system. Obviously, a large part of this will come down to the speakers you choose to match it with, but the Pioneer shouldn't have any trouble performing, even with more power-hungry speakers. The receiver comes with plenty of options as the centre piece of your system thanks to 6 HDMI inputs and 2 outputs, including a 'zone 2', handy for running a screen in another room.
On the analogue side, we have an integrated phono stage for those into their vinyl and 4 other line level inputs for other equipment. There are even two digital inputs for devices such as CD players. It's a decent selection for a unit at this level. Inside, Pioneer has provided plenty of ways to link your AV receiver to other devices. There is integration with the DTS Play-Fi system for multiroom control as well as Flareconnect and 'Works with Sonos' support. By adding a Sonos Connect you can integrate this system into a Sonos setup and turn the unit off and on. It's a nice touch and something we'd like to see more companies adopt.
There is support for the usual streaming services such as Spotify, Tidal, Deezer and Amazon Music. Tidal can even utilise the support for 24 bit/192khz Hi Res file support for the best possible audio source. Additionally, Pioneer have included Bluetooth in case you just want to play something quickly from a phone or tablet. Ideal for when friends are round, and you just want some music on.
Having looked over the features we wanted to get our hands on this product to see if it performs as good as it looks. We unpack a unit and setup in our demo room with the new Monitor Audio MASS 5.1 system. The new remote is clean and feels good in the hand, while the front fascia has a simple layout. It's dominated by the symmetrical input and volume dials on either side of the screen.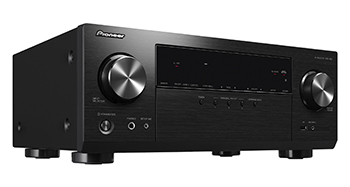 Once we've calibrated everything with the included MCACC calibration system designed by Pioneer, we settle down for a listen. We're suitably impressed by the weight and range that this amp brings from the MASS system. They can be a little hard to drive but the Pioneer does an excellent job or reproducing the Live Aid scene from Bohemian Rhapsody. To try things a little differently we plug in our in-ceiling speakers to create a truly Dolby Atmos setup with 5.1.2 speaker array. This really brings the system to life and we are wrapped in the magic of the moment when Queen played Wembley stadium. Every cry and cheer from the crowd draws you into the performance. It really feels like you're standing the midst of things. It's a great demo piece and the Pioneer certainly does it justice.
Frankly, we were more than happy with the Pioneer VSX934. It created just the performance we wanted and for less than you'd expect. For those looking to explore Dolby Atmos for the first time this is a great starting point. Even if you're not planning to put speakers in your ceiling it's still a great performer and you can always use those extra channels to bi-amp your front speakers for even better performance. To see if this might be the AV receiver for you, why not contact your local Richer Sounds store today and arrange a demo?
Click here to learn more about the Pioneer VSX934 Atmos AV receiver 
Author: Robert, Brighton store