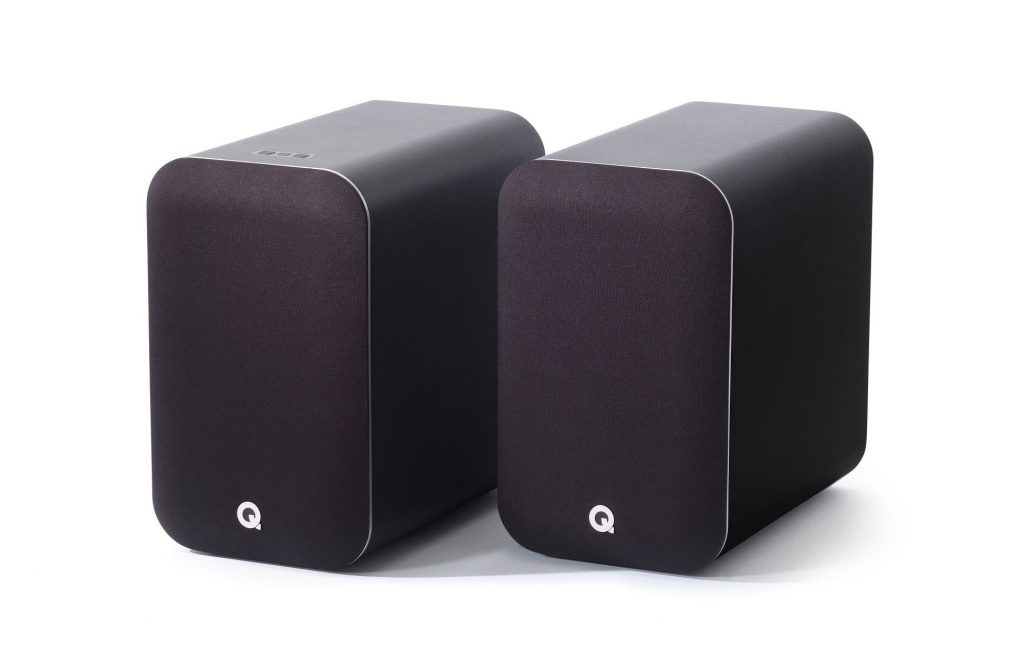 Having only made a foray of sorts into the Bluetooth speaker arena with their former range of soundbars and sound bases (at least in more recent years), Q Acoustics have thrown their hat into the ring of stereo active speakers with their new M20 active sets.
Not carrying on directly or even as a successor to the BT3 speaker set they've previously made, the Q Acoustics M20's sit attractively at £399 (at time of writing). Meaning that unless you have physical media that needs attaching, you can at least get your digital music playing through a stereo set of speakers from a hi-fi manufacturer for less than £500.
Despite the 3000i series coming in a range of monochrome finishes (plus walnut) the M20's are only available in the black finish, with grilles permanently attached. They do however, despite the lack of aesthetic flexibility, feel about as solidly constructed as the 3000i series – which is no bad thing considering their price point and feature range.
For connectivity, you do of course get Bluetooth, but gain the flexibility of RCA stereo inputs, in case of a CD player or turntable with suitable phono stage; an optical input in case of what will likely be more useful as a TV sound solution; a subwoofer output, useful for bass lovers or for aiding in larger rooms; and finally, a USB-B input that can take file sizes of up to 24 bit/192Khz sample sizes.
Usually, this USB option offers a saving grace to active speakers that are limited in Bluetooth scope, capping out at Spotify quality and not able to replicate Hi-Res streaming or do your FLAC files justice.
However, to come back to the Bluetooth features on the M20, this isn't an issue. The M20's are fully loaded up at Bluetooth 5.0, complete with Aptx, AptxHD, AAC, SBC – the works. In a nutshell, you won't realistically lose quality from wirelessly streaming to the speakers. If you do happen to be worried about not getting the best from your Tidal MQA files – pair an Audioquest DragonFly Cobalt up to the RCA and thank me later.
Admittedly, calling these speakers 'wireless' is somewhat of a bugbear. Yes, you can stream to these speakers wirelessly from your devices, that much is true. However, as with the majority of active speakers anywhere near this level, you're looking at a master speaker (with all the inputs and connections) and a passive speaker, connected by a stretch of speaker cable.
An arbitrary length of cable is included for the average set up on a desk. However, you can change this out for whatever you'd like, such as some subtle Chord Sarsen for spanning a door or trimming round cabinets.
If however, you're dead set on a truly wireless set of speakers, you'll need to cast your gaze over something like the KEF LSX.
You do however get some extra help from the speaker in terms of placements. Besides the usual bungs for being close to a wall, you can switch the speakers L-R default settings, depending on where the master speaker needs to be, and can also flick between EQ modes depending on room positioning.
Musically, the speakers are what you would hope for – and then some. It can often be a concern that active speakers will limit the system in terms of power and scale. However, placing these simply on a media unit, they're expansive and punchy enough to fool you into thinking they're much larger than they are.
Bluetooth OR USB is hard to tell apart, and listening to IDLES album, CRAWLER, still provides the same level of detail regardless of the connection, making convenience cost you nearly nothing sonically. Is it a perfect replication of the album, that compares to my first listen through a full Cambridge x Focal hi-fi set up, or a dedicated headphone rig? No – but both are considerably more than the £399 price point the M20's are at, and arguably they're built with less perfect samples in mind – even if they can read them.
They're also happy with the TV – pairing a TV remote may not be as well thought out as it is with soundbars and the like, but it's really not their primary concern.
For less than £500, you'll seriously struggle to find something to beat these speakers in their arena. They may lack the flexibility and chance to build on the system over time that a separates system does – but what they're intended to do, they do brilliantly.
Find out more about the Q Acoustics M20 speakers. Or contact your local Richer Sounds store today to arrange a demo.
Author: Tom, Cardiff store