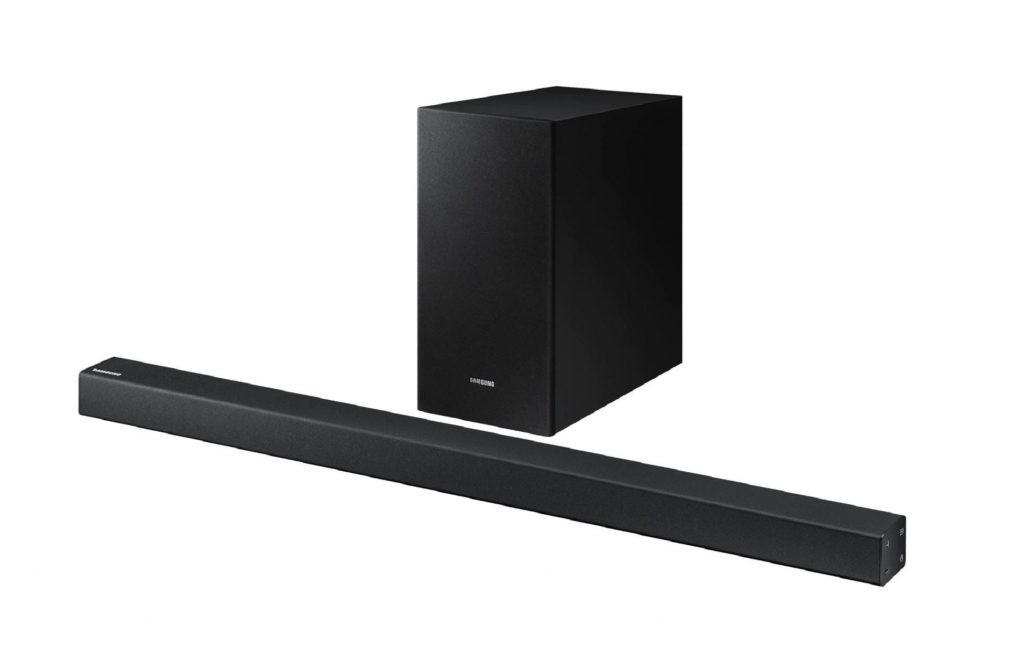 The Samsung HW-R450 is a brilliant little entry-level soundbar designed to boost your TV sound without taking up too much space.
This 2.1 channel system features a little slimline stereo soundbar and wireless subwoofer. The bar features slightly angled sides and a slim profile so it should fit nicely under most modern TV sets.
As with all soundbars the Samsung HW-R450 can be paired with any TV manufacturer, whether you use the digital optical connection or HDMI ARC which offers greater control from your TV remote. The bar also comes with a wireless subwoofer which has a 6-inch driver and a relatively small footprint of 8.7 x 14.5 x 11". Placement of the subwoofer is up to you, as this is non-directional and can be placed anywhere in the living area.
Utilising the built-in Bluetooth means you can introduce your smartphone or tablet to stream music wirelessly. Samsung has a wireless surround kit which adds mains powered rear surround speakers if you wish to add a little extra to the experience.
As usual with most soundbars the setup was very straight forward, we had ours set up using HDMI ARC in around 10 minutes. I tested this bar with Avengers Endgame, heading straight for the final fight scene – and the HW-R450 did a fantastic job managing the pace of the chaos! The little subwoofer certainly held its own and being able to control the volume of the sub on the remote control is very handy.
Don't be fooled into thinking this soundbar is a one-trick pony. During moments of dialogue, the audio was crisp and detailed with great separation. It's great to see an entry-level product performing so well and it is great to see they haven't made too many sacrifices to keep costs down. Samsung has managed to tick all the right boxes whilst being conscious of the price.
The HW-R450 is a brilliant bit of kit that's very intuitive to use and offers a great sound, and it is definitely one to consider within its price point.
If you're interested in soundbars at any price point please feel free to pop into any Richer Sounds store for a full demonstration.
Learn more about the Samsung HW-R450 soundbar.
Author: Dave, Bath store