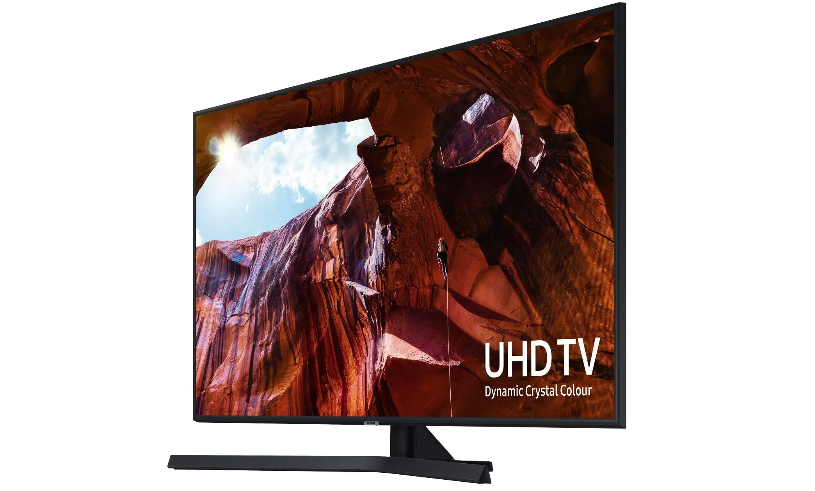 For most, the coming of spring means warmer weather, the optimistic promise of BBQs and longer daylight hours. Here at Richer Sounds though it means it's time for TV manufacturers to release their new ranges!
Korean giant Samsung have held the largest share of the market for over a decade and have some of the most vibrant screens out there. Whilst the majority of attention is given to the flagship Quantum Dot LED models, there's still plenty of need for more cost-effective screens too.
The RU7400 range are Ultra High Definition, LED lit screens and are available in 43", 50", 55" and 65" sizes. Samsung aim to provide affordable but competitive performance in the mid-range area of the market and use features such UHD micro dimming to control contrast, Dynamic Crystal Colour to provide billions of colours and their own Picture Quality Index rating of 1900 control motion and upscale lower quality picture formats. High Dynamic Range formats HDR10, HDR10+ and HLG are all recognised by the Samsung for your 4K content and the UHD processor inside adapts the picture to provide the best possible picture.
Lots of smart features are added for a slick and intuitive user experience. First of all, smart home compatibility is provided with Alexa and Google Home as well as the Samsung developed Bixby for easy voice control, allowing you to change channel, volume or launch apps and search for content. Secondly, Apple Airplay 2 has been added making it simple to share content regardless of whether you use an Android or iOS device. The Smart Things app available on Samsung devices also means that setting up the set is a doddle as the TV gleans all the relevant info such as your WiFi password and Samsung accounts from your device. This means that apart from tweaking the picture settings you're free to just plug in and play!
Samsung has stuck to the "if-it's-not-broken-then-don't-fix-it" mantra as the smart hub tabulated menu is more or less the same as the last few years with all your apps laid out in a neat little bar at the bottom of the screen. Here you can also find shortcuts to the TV guide, inputs and settings as well as video on demand content and catch up TV services. Going further than other manufacturers, Samsung also offer connectivity between your other smart devices such as lighting, kitchen appliances and security system, all controllable from your TV screen!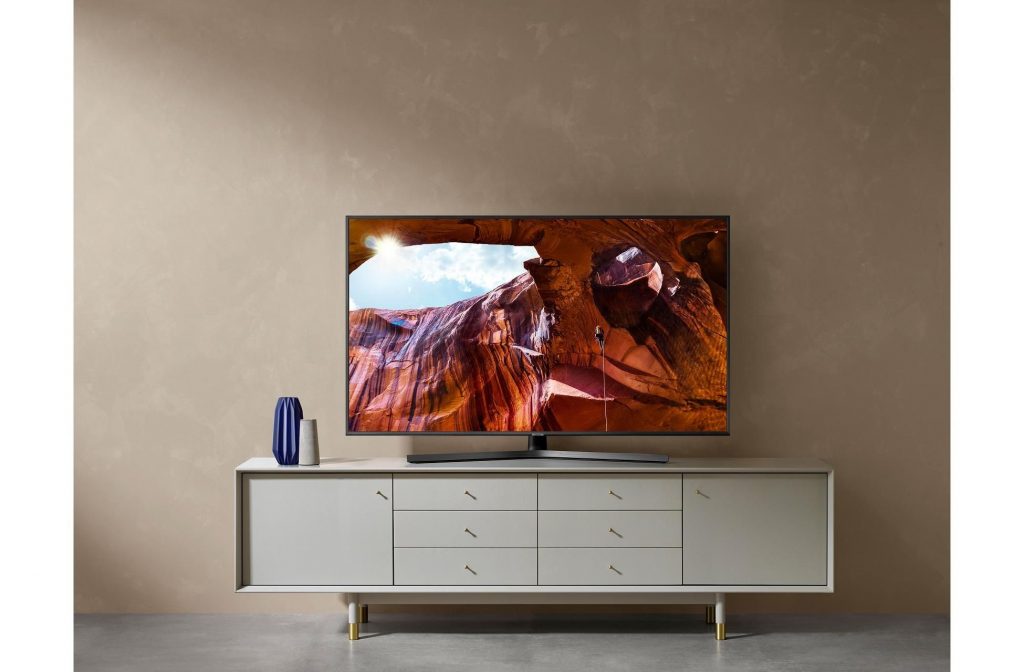 The now familiar "One" remote is provided allowing you to control multiple devices from one place through a simple on-screen set up. There's an element of needing to remember which functions have been assigned to which button but once you've adapted to it, it works surprisingly well. If you prefer though, a more traditional zapper is included too.
The ambient light in your room will dictate which picture preset you prefer but we advise using the Standard option for brighter rooms so that you don't struggle with darker scenes or Cinema for when the environment has less ambient light. Although the peak brightness is lower with the latter you'll get a much more natural picture and you can bump up the brightness a touch for extra pop without losing finer detail. Make sure the Auto Motion Plus is on the custom setting too as Samsung can give you a "soap opera" effect when it's left to the factory default. We tend to prefer the Judder and Blur control around halfway (say 4 or 5) to avoid frames skipping and maintaining lifelike tracking.
We decided to use our UHD blu ray disc of Thor: Ragnarok as our first test and were pleased to see the God of Thunder face off against Surtur and his fiery minions at the start of the film. The HDR enabled disc allowed us a great look at the brightness that the RU7400 is capable of and while viewing angles did wash out the picture when watching from off centre, the trade-off is the rich colours when sitting reasonably straight on.
The TV Plus HD tuner provides you with all the normal free-to-air channels as well as plenty of UHD HDR content via a network connection. It'll save your progress on whichever film or show you were streaming as well as recommending other content you may enjoy. The TV guide is nicely set out and you can also create a list of your favourite and often used channels for quicker access.
Whether it's smart control from the comfort of your sofa or a feature packed TV with great picture, Samsung have you covered with the new RU7400 range. These are now available to view in store so if you're in the market for a new screen, why not pop in to your local Richer Sounds and see what they're all about!
Click to find out more about the Samsung RU7400 TV range.
Author: Steve, Bristol store