Projectors have always been popular, however, within the past year, interest in them has grown at a huge rate. The increase in demand has also led to an increased desire for flexibility in what they do. Enter the new Samsung 'The Freestyle' SP-LSP3 projector.
Traditionally, they have not been as simple to integrate into your home as a TV – until now. This small-but-mighty piece of kit offers incredible value for money and follows in the footsteps of the much bigger LSP5 ultra-short-throw projector. This petite LSP3 projector is packed full of features that are missing on a lot of its competitors.
You get a Full 1080p HD image with a reasonable level of brightness (550 lumens) for the price. It also comes with full Smart functionality, so you can browse Netflix, Disney+, Amazon Prime and all of the other streaming services you'd expect to see on your TV. AirPlay is also included, so casting content from an Apple device is seamless.
Auto keystone is the most useful feature by far, in my opinion. It automatically adjusts the image so that it is properly aligned and in position. This means that you can put the LSP3 at an angle to the wall and it would still show a straight image – this defeats the need to manually configure your projector and opens up a whole world of options for where to place it
Design-wise, the LSP3 looks like a small lamp and has a smart white finish. Measuring 102mm x 173mm x 95mm (with lens cap), it is lightweight and compact enough to take anywhere. It has a small stand, which can rotate to accommodate any angle you wish. There is an additional battery pack that can be purchased separately, which gives up to three hours of play time, so you can truly watch that movie or football game anywhere you like. I imagine a projector like this will be very popular for the upcoming 2022 football World Cup.
Can something of this size offer the big-screen experience? I can confirm you can get up to a whopping 100″ screen size and it still maintains a sharp image. There are touch-sensitive buttons on the lens panel, but to avoid the dreaded fingerprint marks, I would recommend using the included slick remote instead.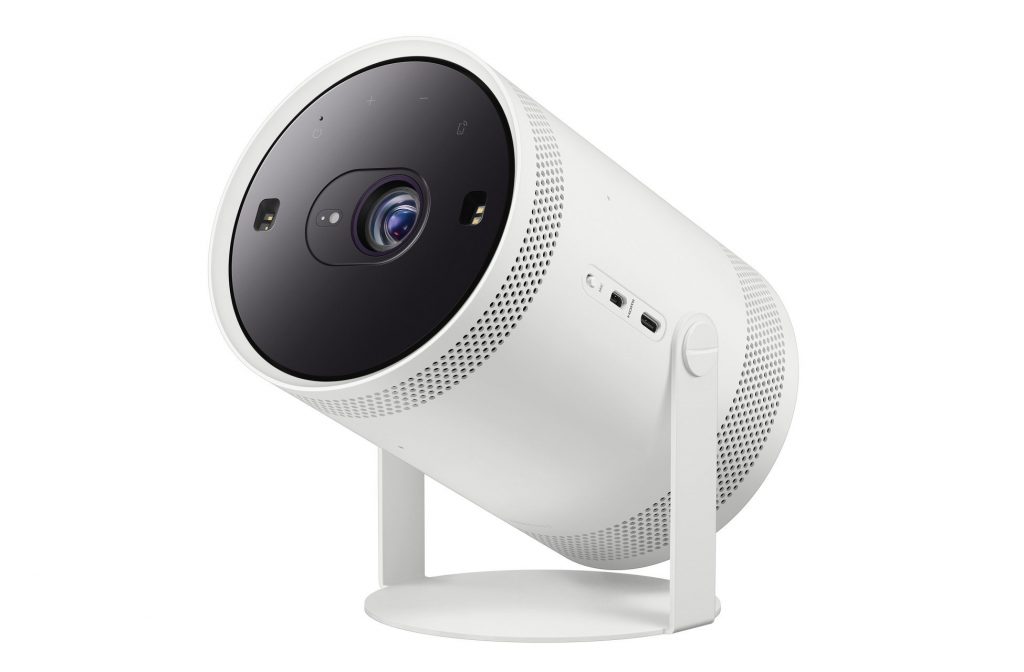 Due to the small size of the projector, there are micro USB and micro HDMI slots. If you wish to share the screen via laptop or use a Blu-ray player, for example, you will need an adaptor or special cable. I suspect that this type of use will be minimal though and that the majority of owners will use the vast array of Smart apps that the projector comes preloaded with.
The LSP3 also comes with a built-in mic and therefore supports voice assistants like Bixby and Alexa. If you wish to adjust the volume or launch an app, you can do this without even getting up! This Samsung LSP3 Freestyle is a standout for being simple to use and easy to set up, without sacrificing quality.
I have tried this projector in various scenarios from between 1-4 meters away from the wall, and each time it has performed admirably. I wasn't sure it would provide the punch of a bright image over a long distance, but I was pleasantly surprised – it does maintain a strong colour palette and detail. I wouldn't recommend going any further back, but it does prove that this little projector is very versatile.
On the whole, I am very impressed with the LSP3. The features it contains are ideal for a more portable projector life. I can see it being used anywhere, from a university dorm to a church hall. The quality of the picture, although not top tier in terms of contrast (100,000:1 ratio), is not less than I would expect. It isn't designed to be a cinema-level projector, so is the perfect choice for more casual watchers who want a projector that is Smart, small, versatile, high quality and incredible value. There are others on the market, but most are larger and have more limited Smart capabilities, so I would recommend that you don't look any further than the LSP3!
Why not visit your local store today to check the projector out? Or give our Telesales team a call.
Author: Tom, Bath Store