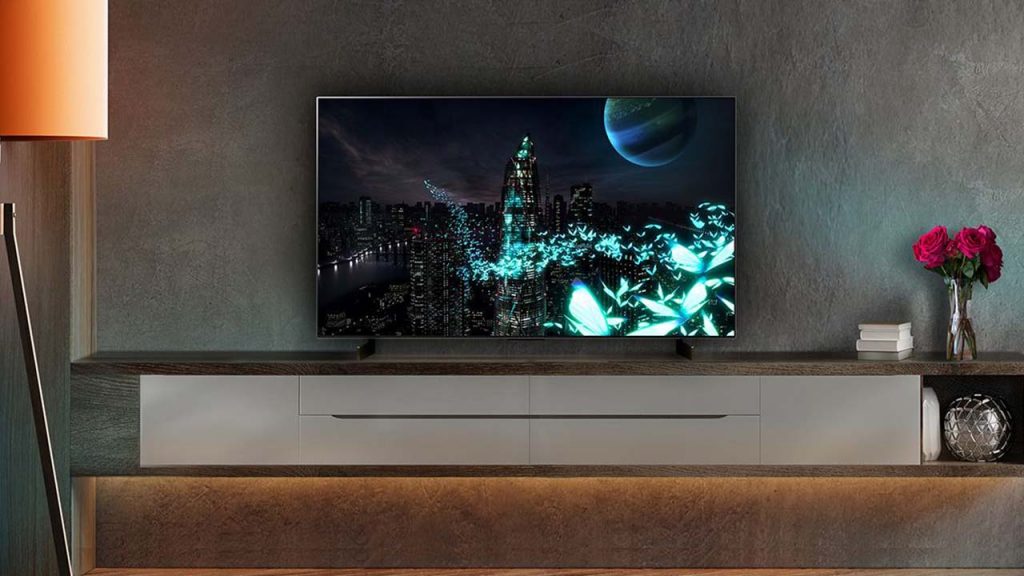 Whether you are a movie-lover or a gaming enthusiast, our Premium TV range has something for you. The world of technology can sometimes be confusing and full of jargon, so this article will clarify what is so great about them and what you can expect when you purchase one of these revolutionary TVs.
Why Premium TVs?
With nearly all TVs now boasting big screens and slim casings, you might be wondering what advantages Premium TVs offer. Behind the screen, however, there are actually substantial differences. Here's a rundown of what you can expect when investing in a Premium TV.
The finest detail
Becoming part of the Premium TV club keeps you at the forefront of the latest TV technology. The first consideration is screen resolution. At the top of the tree sits 8K technology, and we have an increasing number of TVs offering this. 8K produces four times the resolution of 4K, giving incredible detail – it's almost as though every blade of grass on the pitch is now visible! But, don't you need 8K content with these TVs? No, because the advanced picture processing upscales existing 4K images, revealing an entirely new level of clarity, even for native 4K content.
Made for movies
It's not just about resolution either, it's about the truest, most accurate colour too. Premium TVs use a variety of technologies to help maximise colour purity. The latest High Dynamic Range technologies, such as HDR10+ and Dolby Vision IQ, are major contenders here, as are IMAX and Filmmaker modes. The last two are especially impressive as they bypass the TV's own processing and deliver the picture exactly as the director intended.
A gamer's delight
As well as suiting movie fans, recent Premium TVs have made great strides in the gaming world too. This is mainly down to the latest HDMI connection, known as HDMI 2.1. Look out for this in the specification list and the chances are you'll get an array of features aimed specifically at gamers. These include VRR (Variable Refresh Rate), ALLM (Auto Low Latency Mode) and 4K 120Hz refresh rate – all designed to make motion smoother. Other features to keep an eye out for are AMD FreeSync (supported by Xbox Series X and AMD graphics cards) and Nvidia G-Sync (supported by Nvidia PC graphics cards). Whatever your gaming source, Premium TVs also offer vastly reduced input lag, making you feel much more connected to your gaming.
Vivid colour and inky depth
Premium TVs also introduce screen tech that makes the image even brighter and more vivid. Quantum Dot and Mini LED technologies, in particular, bring images to life with lush colour and strong contrast – even in rooms with higher-than-average levels of natural light. OLED TVs are now well established as being amongst the very best for image depth and darker blacks.
A sound improvement
Although we'd always suggest using a soundbar or, better still, a separates home cinema system, Premium TVs usually provide a sound upgrade. Many feature built-in subwoofers for a richer, more balanced sound. Top models are usually equipped with sophisticated multi-array systems that fire sound around your room for a more immersive experience.
Iconic design
A Premium TV isn't just about picture and sound, it's about style, too. You can expect a big uplift in build quality and design. What was once plastic is now often a metallic finish and many have a thinner bezel too. Check out the Frame and Gallery ranges for TVs that become works of art – quite literally.
Why Richer Sounds?
We love TVs and our store teams have vast knowledge and experience of their every aspect, making us stand out from the supermarkets. From movie fans to gamers, our colleagues are passionate about what makes a TV suit your every need. Best of all, this expert knowledge doesn't come at a price. The very opposite in fact. We check our prices daily to make sure we're the cheapest and remember, we don't just claim to have the lowest prices, we guarantee it! With our Lowest Price Guarantee, you can be sure of getting the best deal around – even up to 14 days after purchase.
Unlike any of the internet retailers, we offer at-home consultations. Letting us see the room size, light level and viewing angles helps us find the perfect TV to suit your exact needs. Why not let us also advise how to get the best sound from your TV while we're there? We can do this in person or via video call and there's absolutely no obligation to buy.
VIP exclusives
When choosing a TV, don't forget that our VIP Club exclusives give you a whole bundle of benefits. First off, there's our industry-leading 6-year guarantee on almost all of our Premium TV range, giving you total peace of mind. Many exclusive VIP deals also offer extra savings or additional benefits, such as an included soundbar, so do keep an eye out for these. Joining the VIP club takes just seconds, online, over the phone or in-store, and is absolutely free – no fees, ever! With over 1 million members, it genuinely pays to be in the VIP Club.
So, what are you waiting for? Take a look at our Premium TVs online now. If you would like some advice, speak to one of our experts today, either on the phone or in your local store, and we'll help find the perfect Premium TV for you!