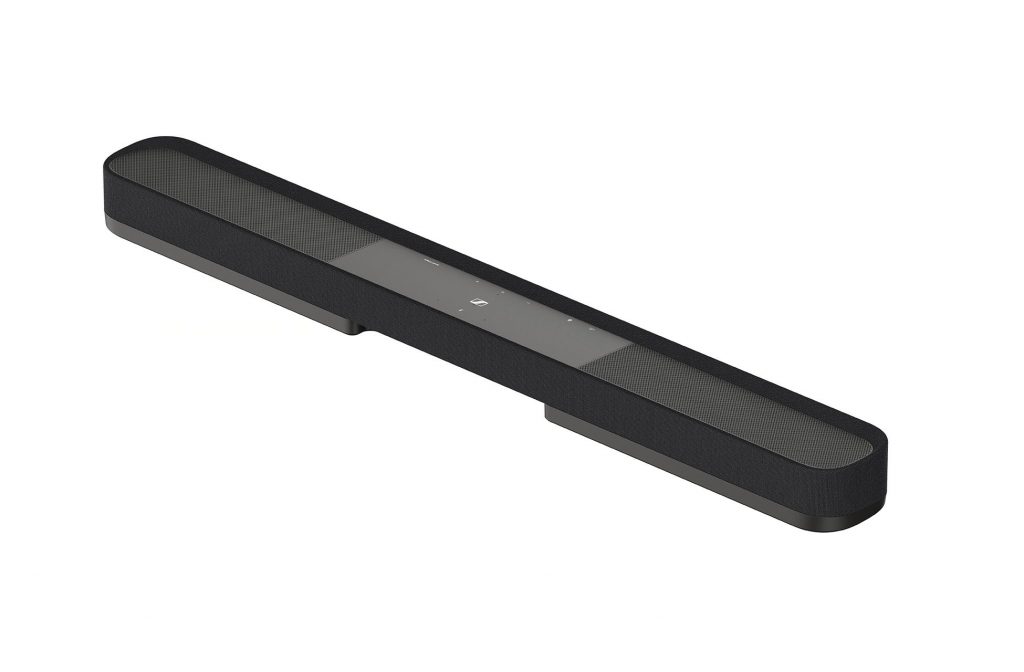 The original Sennheiser AMBEO soundbar shocked the world when it hit our living rooms. This soundbar was, and still is, perhaps the most highly praised soundbar to date. What Hi-Fi? called it, "one of the most authoritative-sounding soundbars we've ever heard." It remains a reference point in the soundbar market. Many of us, however, don't have the space for a 1.27 metre wide, 18.5kg beast!
Sennheiser has recently announced two new additions to replace the original AMBEO soundbar. The Sennheiser AMBEO Max and the AMBEO Plus. Today we are going to focus on the (not so) little brother of the AMBEO Max. Designed for a similarly mighty sound but coming from a smaller chassis there are many reasons to love the AMBEO Plus…
At the time of writing, it's a handy 30% cheaper than the Max. Perhaps more importantly, it's also much more room-friendly. At around a third of the weight and just over a metre wide, it'll fit in places the Max simply won't.
Best of all, for all its more forgiving aesthetics, the Soundbar Plus is still a first-rate performer. It might be the junior model, but its performance still dazzles. Featuring up-firing speakers within its multi-array, the Soundbar Plus effortlessly handles Dolby Atmos and DTS:X soundtracks, giving you an impressive sense of being enveloped by sound. Built-in, twin subwoofers mean that this soundbar also has the grunt needed for explosive soundtracks and orchestral tension. Put simply, when the sound is supposed to make you jump, you'll jump!
Although easily bassy and loud enough for most of us, for those who want to take the bass to that next level, you can. That's where the Sennheiser optional AMBEO Sub comes thumping into the scene. With this subwoofer, the bass plumbs the depths of any soundtrack, or music for that matter. Sound effects that you could merely hear before, now become ones that you feel. For cinematic impact, the optional Sub works a treat – just make sure you invite the neighbours around for the odd cinema night!
Another part of the AMBEO experience that's always impressed is the wide range of music streaming options – and that's still the case here. With (take a deep breath) Apple AirPlay 2, Bluetooth, Google Chromecast, Spotify Connect and TIDAL Connect, this makes a brilliant speaker for music. Even better, the slick Sennheiser Smart Control app makes accessing your music a cinch. The app also gives you a wide range of tuning options and dedicated presets for different content – perfect for music, movie and documentary settings, for example.
Whatever the preset, you won't want to ignore Sennheiser's' impressive room calibration system. Using an array of near and far-field microphones, the system automatically calibrates to suit your room. Unlike some systems that require external mics and time-consuming settings, here you simply tap a setting in the app and, around three minutes later, it's done.
Connecting the soundbar to your existing kit couldn't get any easier. For the simplest link to your TV, use the HDMI eARC socket. For other sources, such as your games console, set-top TV box and Blu-ray player, the AMBEO offers two further HDMI inputs, a digital optical and even traditional RCA phonos. Sennheiser has even provided a handy USB charging socket – perfect for charging remotes, headphones and other USB-charging accessories.
To sum up, Sennheiser has managed to achieve precisely what we'd hoped with this slimmed-down AMBEO. While way more pocket and room-friendly, it's also still very much in tune with the essence of AMBEO. For high-quality, fully immersive sound from a single box, AMBEO is 'like father, like son' and still the name to beat.
Why not visit your local store today to check the soundbar out, or give our Telesales team a call.