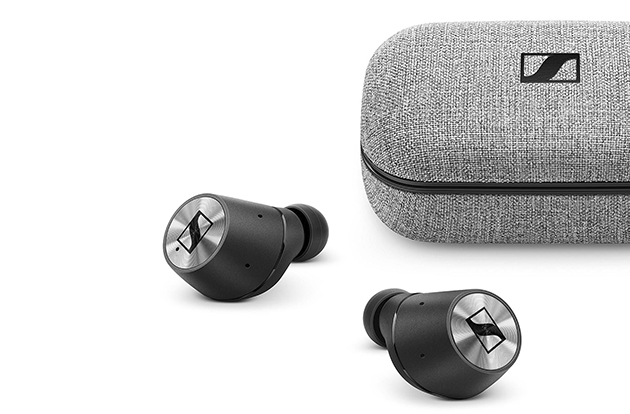 Sennheiser's celebrated Momentum range finally shakes all the wires.
Companies have long sought to live up to the dreams of science fiction fans everywhere and bring us the technology from our favourite films. Whether that's Nike's 'Back To The Future' self-lacing shoes or, as today, Sennheiser's new Momentum True Wireless earbuds. The question is, do they live up to all our expectations to become part of our everyday life? While the technology behind these earbuds is still very new, that doesn't mean to say there aren't several competitors already on the market for these new earbuds to contend with. Apple has their Airpods which tie in nicely with iPhones, while companies like RHA and Google also have their own versions. So where do these Sennheisers fit?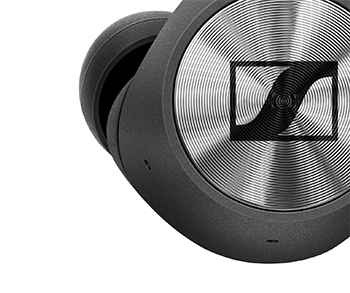 The Momentum True Wireless certainly occupy the more premium end of the market with their build quality, and above all their sound. These earbuds are designed to sound better than anything else on the market. They're also kitted out to beat the competition, with claimed best-in-class low latency for immediate response to your commands. There's also USB-C for quick charging and compatibility with the cables of your new smartphone. No need to hunt around for the specific cable for that product anymore. It shows no corners have been cut when it comes to internals.
On the battery side of things, we have a respectable 4 hours on the earbuds themselves and another 2 charges from the accompanying case. This is a trend with wireless earbuds as there is simply no room for a large battery and therefore cases are a requirement for keeping you going on the move. We'd regard this as a reasonable battery life for a high performance product as the speakers will need more power to get the best sound from them.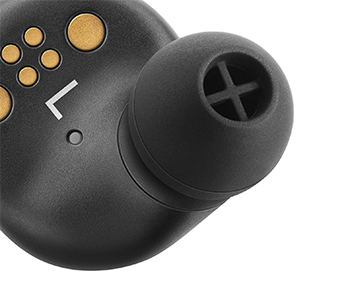 Due to their truly wireless design, in regards to connectivity you solely have the option of wireless, unlike some other models in the momentum range where you could plug them in if needed. Size is key with earbuds and we can't say we found it an issue during our time with the Momentums. Bluetooth 5.0 is included, ensuring a degree of future-proofing.
This even supports aptX and AAC for even better audio quality, as these standards can transmit far bigger files for improved sonic detail. The time has come to open these earbuds up and they certainly look futuristic when you take them out of the packaging. The case itself is an attractive fabric cover, something we can easily see ourselves carrying around in a pocket or bag without feeling like a drag and the lid of the case has an attractive snap shut for a more premium feel. The earbuds themselves feel well made and designed thanks to a matt finish for easy grip and a metal trim. Each comes with a choice of 4 ear tip sizes in the box so finding the perfect fit shouldn't be an issue.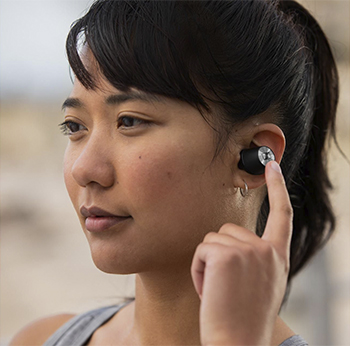 Connecting to a smartphone is relatively easy with a long press on both earbuds activating pairing mode. Simply find the device on the Bluetooth menu and you're away. We try out some of the voice commands courtesy of Google Assistant on our phone and find the response quick and helpful. It's one step closer to a personal assistant with you all day long. There's even an ability to reproduce outside sounds through the earbuds to make them transparent at the touch of a button. Helpful if you commonly find yourself taking your normal earphones in an out all day long. Google Assistant is not the only helper on board with support also for Siri on iPhone and Cortana on Windows.
When it comes to sound, we sample a few of our favourite albums throughout the day and were impressed by the detail and timing on Arcade Fire's Everything Now album. Bass hit the spot right on time and the scale of the performances was impressive for such a small 7mm driver. Even on Stormzy's "Blinded By Your Grace Pt.2" there was plenty of space in the room. At no point did we feel like we have earbuds filling up our ear cavities, the sound created a much bigger space. It was a really insightful performance.
Overall, we were mightily impressed at what Sennheiser has managed to pack into such small package. While these earphones certainly occupy the more premium part of the market, for the right person they could be the perfect fit. For those looking for unbeatable sound quality and premium build quality to match should definitely pop down to their local Richer Sounds store to check these out right away.
Click here to learn more about the Sennheiser Momentum True Wireless headphones
Author: Robert, Brighton store