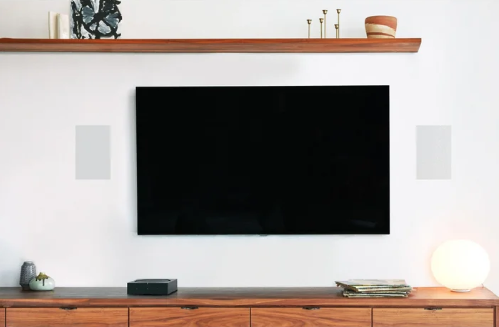 Looking for crystal clear sound from easily disguisable installation speakers? How about with all the functionality and ease of use of the Sonos app? The new Sonos Architectural speakers by Sonance promise all of this and more. Read on to find out what we thought of the range.
The Sonos Architectural range has come about thanks to the release of the new Sonos Amp and a drive by Sonos to move into the installation game. With this in mind they have teamed up with well known installation brand Sonance to launch a pair of in-wall and in-ceiling speakers tailored to work with the new Sonos Amp.
The speakers look much like any other installation speakers with the in-wall speakers sporting a rectangular grille and the in-ceiling feature a circular one. You can however purchase the other shape if that better suits your style. In addition, Sonance has made these grilles paintable so you can blend them into your ceiling no matter the colour.
The difference with these speakers in comparison with other Sonos produced speakers is that they don't require their own power socket. Instead, they draw power from the Sonos Amp via the connecting speaker cable. This means no need for an electrician to run power throughout the room, you simply need suitable speaker cable to go in your walls or ceiling and you're good to go.
These speakers are designed with two setups in mind. The first is for use as ambient speakers in the home, perhaps with several Amps running a number of speakers throughout the home. The second is for use with a television thanks to the new Amp's HDMI input. This means you could have a surround system with your front speakers hidden in the wall and the rears flush with the ceiling. No more arguments in the household about bulky surround sound systems!
Sonos claims you can run up to three pairs of these speakers from a single Sonos Amp making them excellent value for money while still providing quality sound. The Amp provides plenty of power so even with six speakers you won't find it a struggle to get the volume you want. This makes them perfect for whole house systems.
When it comes to opening up these new speakers, we're excited to see what Sonance has produced. We start with the in-ceiling speakers which has a sturdy feel to them. We fit them into the ceiling tiles in store to see how easy installation is and we're happy to report it is a breeze. There is a cut out template in the box to make everything a touch easier.
We hook these up to our Sonos Amp to see how they sound and are mightily impressed. Our first step is to connect everything up and then utilise Sonos' Trueplay system to tailor these speakers for the room. This is a feature exclusive to the Sonance speakers. The Amp cannot detect with any other installation speakers. We compare before and after and there is certainly a much more toned nature to the sound after wafting our phone about for a minute or two to get it working.
Next, we come to the in-wall option. Sonance has given this family of speakers a distinctive look and feel so these run very much in the same vein. These also come with a cut-out guide in the box and don't take too long to get working. These have a similar but slightly more full-bodied sound, more in line with a traditional bookshelf speaker leaving us mightily impressed for the size.
Lastly, we set about creating a 4.1 system with these speakers and our Sonos Sub. Setup is quick and easy thanks to the application and we're sitting down to enjoy our current favourite movie, Bohemian Rhapsody, in no time. We're enthralled by the setup when it comes to the Live Aid sequence at the end of the movie. You really feel like you're in the stadium thanks to this impressive surround system.
Altogether, we found these speakers to live up to our high expectations of Sonos and Sonance. The partnership has obviously paid dividends and you can tell that thought has been put into how to set these apart from the crowd of other installation speakers. To find out more, why not pop into your local Richer Sounds store today.
Click to find out more about Sonos Architectural speakers by Sonance.
Author: Robert, Brighton store