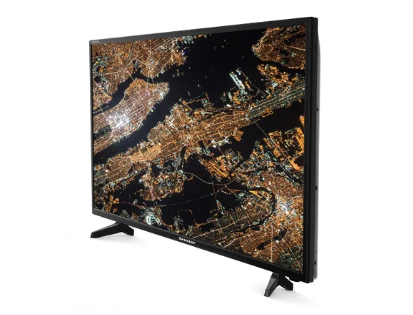 TV's can be an expensive business nowadays, with a plethora of high end high price luxuries all vying for your attention. But what about if you just want a TV that works, does most things that modern TVs do, and doesn't send your accountant into a blind fit of rage? Well then, for that may I suggest the Sharp 40AJ2K.
Let's start with the things that you'd expect to be in a TV nowadays. It is of course a 4K Ultra HD screen with HDR10 and HLG compatibility. This means that you'll be able to watch any of the fanciest 4K Ultra HD whilst also making HD look as crisp as possible, and utilizing the best that HDR has to offer so you'll get fantastic contrast and great brightness and black levels. This is all par for the course with a modern TV but is it nice to get it on such a budget price. It also boasts an Active Motion 400 processor so its no slouch when it comes to fast moving objects and the smoothness of the image.
I've watched a few things on this TV just to get an idea. From watching the New Bumblebee movie in 4K to some older animated Studio Ghibli films on both Blu-ray and DVD the TV didn't struggle at all, giving a good balance between colour and brightness (when set up correctly) and flowing well whenever anything fast moving happened. Obviously at this size there are better images to be had on more expensive TV's, but again for the price this TV did much more than I expected.
The old adage of "TV's have bad sound" is still one that exists and I'd always recommend you buy something to increase the volume and increase the atmospherics. Having said that however I was again surprised at how well the Sharp performed giving me a clear sound that even had some pretty decent mid and low end offerings. This is because of the tuning performed by the audio brand Harman Kardon which definitely does make a difference.
Being 2019 it is a smart TV, meaning you can use it to stream programmes through a multitude of different apps. Using the Aquos Net+ you can get things like YouTube, Netflix, Freeview Play (BBC, 4, ITV, 5 etc) and DLNA streaming if you have files on a computer or Nas drive. One omission that's pretty obvious is Amazon Prime, so if you do want to use that I'd suggest an Amazon fire stick or even looking at a different TV.
It also allows for casting from an Android phone if you just can't wait to show those blurry photos of your cats with all your friends and neighbours.
Connection wise it comes with a Freeview input so you can watch standard Freeview TV, 3 HDMIs and 3 USB. On the audio side it still comes with a 3.5mm headphone out (a rarity nowadays!) and an optical out.
All in all for what it costs the Sharp performs much better than you would expect, and whilst I wouldn't call it one of the best on the market you still get a very solid performance. With that in mind why not pop into your local Richer Sounds store, or phone them up, for some free friendly advice.
Learn more about the Sharp 40AJ2K TV.
Author: Hal, Plymouth store