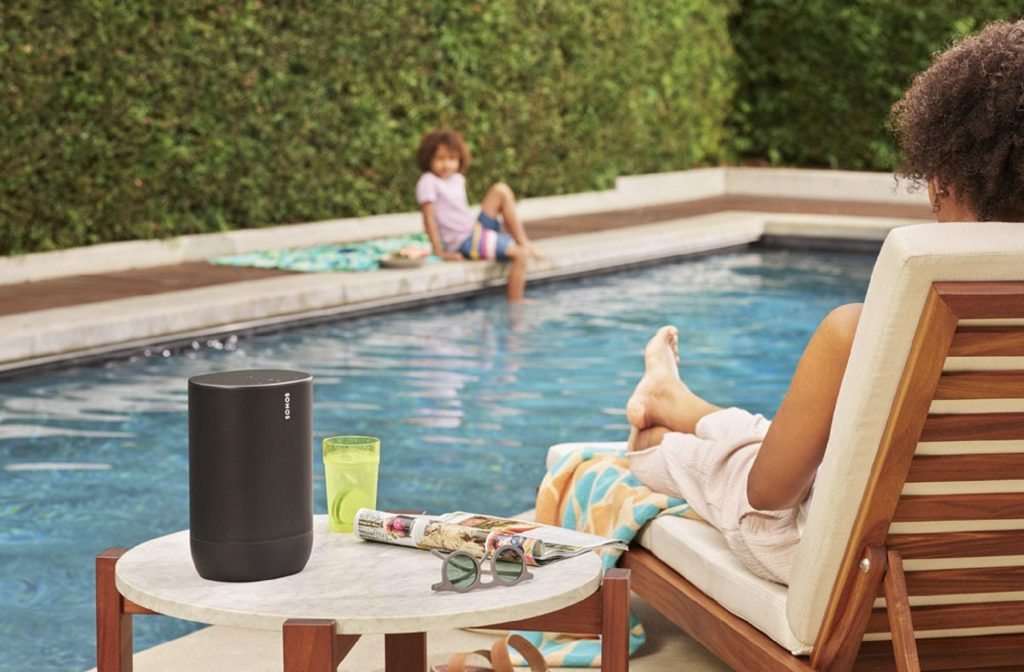 Get ready for the summer with this new truly versatile addition to the Sonos range, the Move.
As the name suggests this smart looking speaker has been designed from the ground up for portable use. Still featuring the signature style of the Sonos brand it does not look out of place alongside its counterparts. It is the inside where things really start to change. Built to withstand the small drops and knocks that can be expected from portable use the Sonos Move is shock resistant and durable. It also has an IP56 rating that will withstand rain, snow or sun. The design also allows for a subtle carry handle at the back.
The sound output of the Move is every bit the well-crafted sonic experience you receive from all Sonos products. Listening to London Grammar – Strong, there is an impressive bass response for a portable speaker, especially when boosted via the EQ. The twin class D amplifiers do a great job at making a tight and pushy sounding speaker that will be great for parties and cut through any space. The vocals sound clear and spacious and can be pushed at higher volume without too much clipping. The volume is certainly ample to fill most indoor and outdoor spaces even while competing with background noise.
When operating away from a network, the speaker relies on Bluetooth to play from your device, be that stored media or your choice of streaming service like Spotify or Apple music. With the advances in Bluetooth technology the audio quality is impressive these days and you will not hear quite the shift between home use and out and about that you once would.
Battery power, as with any speaker of this nature, can be a critical factor in its success. With eleven hours of continuous play-time you can be certain this will cover most day trips or BBQs. Should you need to charge on the go there is a USB C port or you can drop the speaker onto its custom supplied dock. It is rated to last 3 years or 900 charges and is easily replaced as required when the time comes by an official battery pack.
Fully compatible with Alexa and Google Assistant voice control, the Move is every bit as smart as other multi-room speakers. This does only work via Wi-Fi so it should be noted while out and about you will lose that functionality. One big smart advantage you don't lose however is the Trueplay tuning, it also uses the microphone and can be activated while travelling. This means wherever you are the speaker will adjust itself to guarantee the best possible sound from your current location and music choice. If you wish you can also use the touch controls on the top to disable the microphone and the light display will confirm this.
Overall, this is a great addition to what Sonos have to offer. It is a justifiable step from the Sonos Roam to be considered more of a social speaker for parties or larger gatherings. There has been no concession on audio quality or any of the quality-of-life features or design that makes Sonos so unique. This is certainly worth it for anyone looking to bring an extra dimension to their summer BBQs or on the beach.
Find out more about the Sonos Move smart speaker.
Author: Joe, Bath store