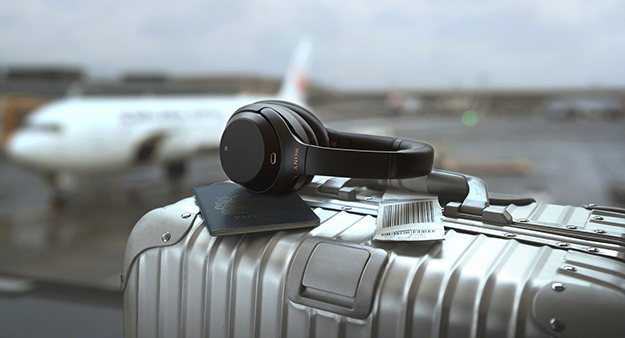 I listened to these for one song and just had to buy them. Sony's new WH1000XM3 noise-cancelling on-ear headphones are beyond jaw-dropping and have made my commutes to work sublime.
Following on from their previous WH1000XM2 headphones, Sony has tweaked and improved on everything we could have hoped for and even fixed the minor gripes I had with the previous generation. The new headphones feature amongst other things Bluetooth v4.2, NFC, new analogue amplifiers, greatly improved battery life, and they're lighter than their predecessors.
The noise-cancelling that was already phenomenal on the XM2s has been improved yet again. This is down to a few tweaks with Sony's new QN1 processor and the improved build quality of the headphones. These headphones look very similar to the previous XM2s but are tougher, more comfortable and lighter. Yes, on paper it's only lighter by 20 grams, but in terms of wireless headphones 20 grams is a huge difference. They have softer padding on the cups and more padding on the headband, making it quite easy to forget you're wearing them. The ear cups have been widened and made of a softer padding, meaning that they close in and around your ears effortlessly without building up pressure – making them perfect for extended listening. Although I wouldn't recommend them for gym use.
The improved build quality paired with their bespoke app allows you to control the amount of noise-cancelling you require, along with tailoring treble and bass control to where you like. The app also allows these headphones to literally block out the outside world like never before. During commutes you have to make sure you pay attention because you will be in your own world, it has so far made me miss three buses and multiple stops.
Music quality-wise I personally stream everything on Spotify premium as this is easy for when I'm on the move and with the DSEE HX up-sampler included in the app the sound is beyond amazing even at low levels. The silence that the noise-cancelling provides adds new space to the soundstage allowing for much better separation in music – this makes the voices come alive. Listening to Freya Ridding's "Ultraviolet" it feels like she's sat a couple of feet away singing at you. Along with this improved clarity the bass has taken a massive leap forward from the XM2s not just in the level of bass, but the detail of it – something that not many headphones get right. So far I've been testing these with every genre of music I can think of, going from the folk-punk of the Dropkick Murphys' "Rose Tattoo" to the rap of Dr Dre's "Still Dre" and have yet to find a song that these headphones don't blow me away on. The voices seem sharper and more natural while the quiet parts of songs are uninterrupted by outside noise and the bass envelopes you as if you were at a live show.
Something that they touted on the box and in reviews, that I didn't quite believe from previous experience with wireless headphones, was their battery life. They state 30 hours approximate use off of 3 hours charge and 5 hours of use from 10 minutes charge. I know right? Every company says this, but I will admit I'm impressed I charged these for 3 hours on the day of purchase 2 weeks ago and they're still on 20% battery. Now with commuting to multiple jobs and general usage these get used 2-3 hours daily. I can honestly say the battery life is beyond amazing and I am just waiting to see how far I can get these to go.
The noise-cancelling is by far the best on the market and the clarity is up with the best, too. If you're thinking about getting a new set of headphones I cannot recommend these highly enough. To find out more or to hear the Sony WH1000XM3s in action, pop into your local Richer Sounds and lose yourself in the music.
Click here to learn more about the Sony WH1000XM3 headphones 
Author: Matt, Bournemouth store