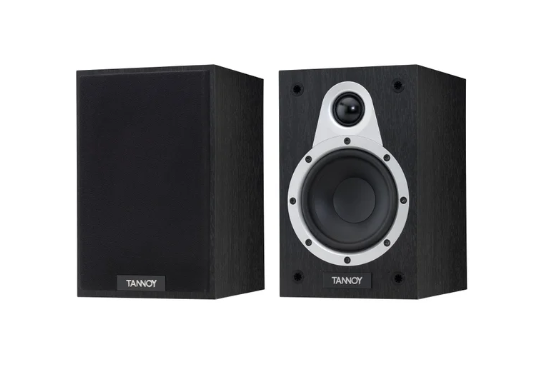 Tannoy packs punch and performance into a speaker perfect for tight spaces.
Some brands have been part of the rich history of audio since the industry began and one such name is Tannoy. In fact, the Scottish marque are so synonymous with audio that you'll often hear people refer to a Public Address system as the "Tannoy". In hi-fi world though, they've always been known for producing high quality speakers and at decent value for money which is why we're very interested in the Tannoy Eclipse Mini speakers.
As exciting as it is to gush about the latest and greatest innovations to our customers, the reality is sometimes somebody just needs to replace the speakers they got with a system years ago and money's a bit too tight to mention. That's where these diminutive pair of noise-makers come in. As the smallest part of the entry-level Eclipse range, the Minis are designed to be exactly what they say on the tin – a discreet pair of speakers that leave you without a gaping hole in your bank account.
Wrapped in a black oak veneer, the Minis are very understated. No curvaceous cabinet design, no magnetic grilles, just plain old school speaker design to minimise the cost to the buyer. The 1.1" soft dome tweeter and 4" multi-fibre woofer sit in a silver coloured faceplate giving a pleasing contrast to the straight black of the cabinet finish so looks aren't an issue regardless of having the plug-in style grilles on or off. A pair of banana plug speaker terminals are slightly recessed on the rear which sit below a bass reflex port above.
At just under 9 inches tall and with a footprint of 5.7" x 6.9" these Tannoys can work equally well in a hi-fi system or surround sound set up. Their 8 Ohm impedance means that driving them isn't going to be a problem providing you have the recommended minimum of 15 watts required from your system. With that in mind we decided to hook them up to a Denon DM41 (a fine little mini system) to see what they're all about sound-wise.
First up was the king of funky pop himself, Prince, and as we listen to the first few bars of "I Wanna Be Your Lover" we're greeted by a warm, balanced character without any particular harshness or brightness from the top end. The tight drums and staccato guitar have enough presence and rhythm to get our feet tapping and heads nodding, all the while maintaining a fairly neutral tone. Turning the volume up will soon reveal the limitations of any budget speaker and so it is with the Minis. The scale is restricted past medium volume and the cohesiveness of the sound suffers but that's hardly surprising considering their size.
Switching to "Let It Go" by James Bay shows that the Tannoy's mid-range frequency organisation is pretty good, handling the vocals and the guitar work well and conveying the tenderness of the song before anything else kicks in. What bass frequencies there are in the tune sit well and have enough definition and warmth to do their job. Busier tracks will show a little looseness in keeping the various instruments cohesive but we were surprised by how much the Minis will handle before that happens.
If the price and the size didn't already give you a clue, a few minutes listening will confirm that these aren't speakers that are going to give you a huge sound and are definitely suited to smaller rooms. That being said however, the Eclipse Minis are outstanding value for money. If you're in need of an inexpensive and small solution when replacing some budget speakers, why not nip into your local Richer Sounds and grab a bargain?
Click to find out more about the Tannoy Eclipse Mini.
Author: Steve, Bristol store