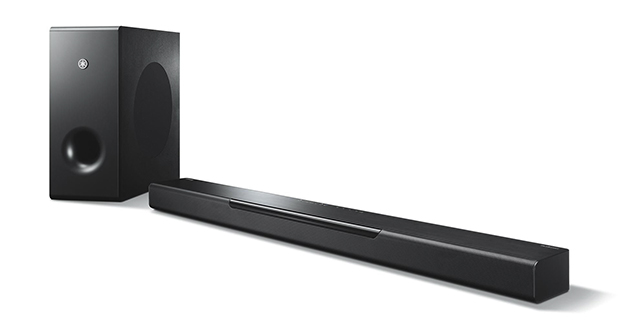 The Yamaha MusicCast BAR 400 is a dedicated 2.1 soundbar, with a wireless subwoofer, MusicCast multiroom compatibility as well Amazon Alexa compatibility. Let's learn more…
Having been the original innovators of soundbars, Yamaha have had plenty of time to refine and adjust their line up, taking some innovative risks along the way. This history shows in the BAR 400,  a very sleek piece of kit that offers an incredible audio experience with plenty of control for the user.
Coming in at 98cm it's hardly one of the biggest bars we sell and only 11cm wide it should fit quite nicely in front of most televisions. The small size is partly down to their wireless subwoofer; the bar itself handles all the high notes and treble, whilst all the drama and bass frequencies will come from the supplied subwoofer. Hiding behind the back speaker grille are four 1.75" woofers a two 1" tweeters; combine this with the 6.5" subwoofer giving you a total of 100 watts – more than enough power for any living room or home cinema!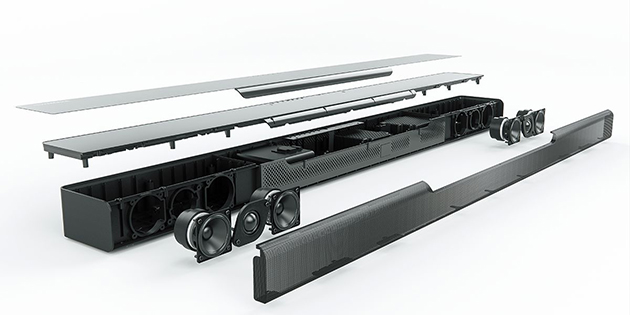 To keep with a certain aesthetic, there is little control on the bar itself, with a small LED to show what input the unit is using, as well as volume up and down buttons, mute and a connect button. To take full advantage of the BAR 400, you'll need to use either the handy supplied remote control, or the dedicated Yamaha smartphone app. There are no lack of connections either, featuring HDMI in/out with full ARC (Audio Return Channel) as well as a digital optical input. There's also an ethernet port should you wish to hardwire this unit to your network and there's even a 3.5mm input: that pretty much covers every eventuality!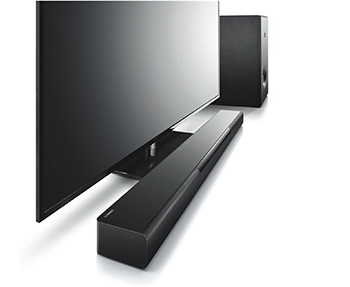 We set our bar up using a 75" Samsung Q9FN and an Oppo Blu-ray player in our demo room and opted for Thor: Ragnarök, one of Marvel's latest movies which boasts not only some of the most incredible 4K images around, but also a truly fantastic thundering score and soundtrack. The movie begins with a short monologue from Thor himself, the Yamaha picks up every bit of detail, with the subwoofer contributing to the chaos happening in the background while being clear enough to produce the faint rattle of chains in the distance. Taking advantage of the DTS Virtual:X means the soundbar will fire sound around the room creating a faux surround sound. Fast forward to some of the film's more epic fight scenes and the same level of depth remains. I found myself having to calm down the subwoofer using the remote at one point, but it was nice to have that control; many bars at this price are often a "get what you're given" sort of affair.
Being that the Yamaha boasts full multiroom audio with it's MusicCast technology, you can introduce the MusicCast 20 and MusicCast 50 speakers to the mix and create a full wireless surround too! One thing that makes this setup truly unique is the ability to use just one of those speakers, instead of a traditional dual speaker setup, to obtain a surround effect. On the subject of MusicCast, I opted for a little music and put the bar in its stereo setting and using the dedicated app put on Jamie XX's album "In Colour". The BAR 400 has an incredible ability to offer a large sound stage, easily filling our little demo room. For me, this is a soundbar that I could actually sit and enjoy listening to on it's own, not something I'd feel the need to run in addition to  a dedicated hi-fi set up, which is a plus for those trying to keep things simple. I've had AV systems and hi-fi for years and it may be time for me to move towards a soundbar.
Taking the time to sit down with the Yamaha, learning how to use it and set it up properly via the MusicCast app really unlocked the functionality for me. Of course, if you want something you can just plug in and play then it ticks all those boxes too, but for those of you looking for an extra bit of the control, I'd give the Yamaha BAR 400 some serious consideration.
If you're interested in this or any of our soundbars then please feel free to give us a call or pop in to your local Richer Sounds shop for a full demonstration!
Click here for to learn more about the Yamaha BAR 400 soundbar
Author: Garrett, Plymouth store