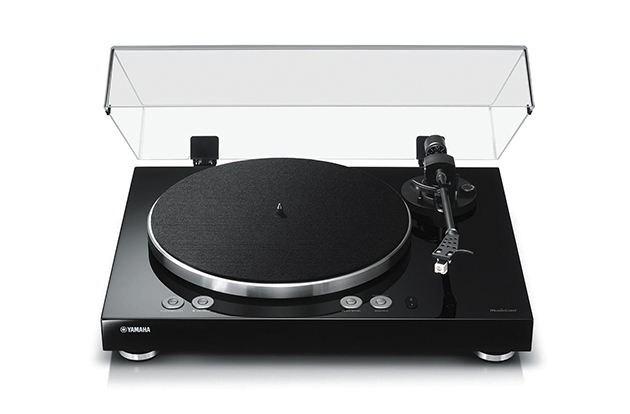 Yamaha makes it easy to add vinyl with your MusicCast system with the Vinyl 500 turntable.
With multiroom systems becoming more and more common in most homes we are starting to see these systems advance and evolve, with voice activation becoming increasingly and rapidly popular with a lot of manufacturers. Multiroom systems still fit a certain niche, they are brilliant for background music, brilliant for entertaining, but are they really made to just sit down and listen? The quality of streaming digital music has done nothing but improve, but the overall experience sees some users put off by the whole affair, longing for a slower, more hands-on experience.
Whilst turntables and multiroom audio is not an entirely new affair, it has never quite been done like what Yamaha is offering with the Vinyl 500. More often than not there's third party bits of kit involved and even some cables, but Yamaha have introduced a wireless (except power) turntable that connects seamlessly and easily to your existing Yamaha MusicCast environment.
Setting up the turntable consists of plugging the unit in to a wall socket, adding it to your MusicCast system using the dedicated app and you're away. Once set up is complete, it's business as usual. The 500 allows you to play your beloved records in one or every room of the home providing there is a MusicCast speaker already set up, using the MusicCast 20 or MusicCast 50 speakers.
The sleek minimalist design of the Vinyl 500 suits most interiors and won't look out of place in the modern home. The unit features built in Wi-Fi, an onboard phono stage that can be turned off if not needed, as well as dedicated ethernet connection should you wish to hard wire the turntable to your router. Whilst this still might not be a true vinyl purists' cup of tea, it's really lovely to see the vinyl and multiroom streaming worlds coming together. If you're after a better sound from your multiroom system, introducing vinyl is pretty much the best way to go about it.
If you're looking at dipping your toe in to the world of vinyl but are put off by all the cables and mess, then the Vinyl 500 from Yamaha might be the one for you! If you've still got questions about vinyl and streaming, we're just a call or visit away at your local Richer Sounds shop!
Click here to learn more about the Yamaha VINYL 500 MusicCast turntable
Author: Dave, Bath store