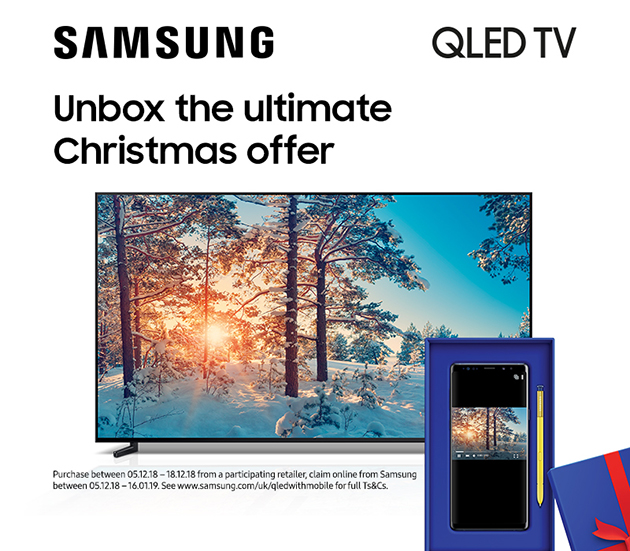 Everyone likes a bonus – particularly at this wallet-draining time of year – so Samsung's latest QLED TV promotion is certain to bring a smile to the face of anyone looking to pick up a new TV this Christmas.
When purchasing select Samsung QLED models between the 5th and the 18th of December, you can claim a Samsung Galaxy mobile phone by redemption – which makes giving (or receiving) the gift of a new TV even sweeter!
So, if you buy one of Samsung's range topping 65″, 75″ or 85″ Q900R 8K QLED, or a 55″, 65″ or 75″ Q9FN 4K QLED, you can get a 128gb Samsung Galaxy Note9 complimentary with purchase! Buyers of the 55″, 65″ or 75″ Q8DN, or the 55″ or 65" Q8CN are in luck too, with Samsung offering a complimentary 128gb Galaxy S9+. Finally, buyers of the Samsung's 55″ and 65" Q8FN can claim a 64GB Samsung Galaxy S9 with their purchase. A brilliant deal!
But beyond the fact that you're getting a brand spanking new phone to go with your new QLED TV, there's also a whole load of superb features that link the two together, and help you to get the most out of both devices. We've listed the best of these features below, just in case you (or a loved one) needs their arm twisting a bit further!
Control your TV with your phone
At its most straightforward, the link-up between your new phone and TV will let you control your television directly from your phone's screen. Change channel, adjust volume and tweak settings – all of this and more is possible, making for simple and intuitive operation of your TV without needing the remote to hand.
Mirror your phone's screen on your TV with Smart View
Handily, you can also use your TV to mirror your phone's screen, making it possible to view media that's stored on the phone, such as movies and pictures, or even specific apps, directly on your television. Access video streaming services and social media from your phone and you can see everything up on the big screen in real time!
Watch live TV
Where things start to get really clever is with SmartThings ability to stream to your phone from the TV, allowing you to watch TV shows and films on your phone's screen from the TV's internal tuner. Need to nip into the kitchen and don't want to miss the match? Simply cast the video to your mobile or tablet directly from your TV, and you won't miss any of the action!
Voice control and search
With Samsung's One Smart remote control built-in microphone, you're able to easily search for and access content and information – but you can also do the same thing with your Samsung mobile phone! Simply fire up the voice recognition app on your mobile, and your TV can be controlled with just your voice, making Youtube searches and the like a breeze.
SmartThings
Samsung's SmartThings app acts as a hub for any Samsung Smart products you may have in the home, as well as giving you access to all of the great features and services mentioned above. A few taps of this easy to use app and you've got a link between phone and TV, as well as a huge number of other Samsung Smart home devices, such as washing machines and refrigerators! It's a great way of keeping connected with the family if you're away from home too, with SmartThings able to share photos and videos you've made on the go with your TV at home via the Cloud.
Samsung's QLED's offer a fantastic platform to access all of your other Internet of Things devices too, with both the televisions and mobile range able to display a visual map of the products connected to your network, so that you can always keep track of them.
With these amazing features, not to mention the superb picture quality of the 2018 QLED range, there's never been a better time to treat yourself – or a loved one! But remember, this offer is only available until the 18th of December, so call or pop into your local store to find out more today!