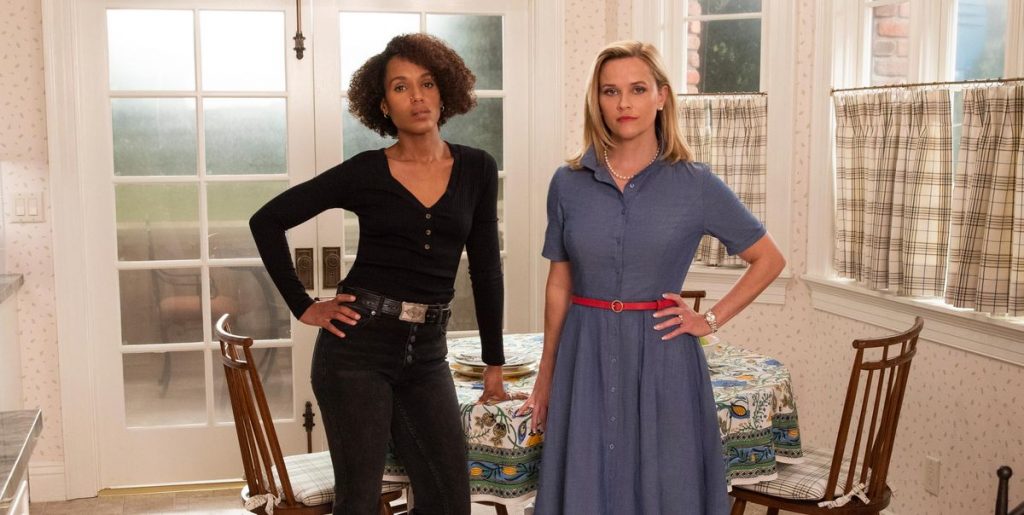 The life of controlling matriarch Elena Richardson (Reese Witherspoon) is upended when enigmatic mother Mia (Kerry Washington) and her daughter Pearl (Lexi Underwood) move to Elena's picture-perfect town of Shaker Heights, Ohio.
Little Fires Everywhere is a TV show that refuses clarity and, as a result, sticks with you long after it finishes. Its characters are all multi-faceted, continuously testing our allegiance as opinions are formed, shattered and reformed again. The social issues raised in its 1990s American setting remain as wrongfully existent today, informing an all-too-real sense of injustice. Its family dynamics are as varied as they are relatable, with each child represented in the show appealing (or not) to different viewers in multiple ways. With all of these elements mingling at the story's core, showrunner Liz Tigelaar is able to adapt Celeste Ng's bestselling novel into an intense heightened reality, where believable conflicts are entangled into an unsettling sense of the uncanny. If all of this sounds a bit nebulous, it's because Little Fires pulls a lot of different tones and ideas together to create a show that, to some, may seem a bit outlandish. It proudly challenges this notion, using the drama of the story to maintain a consistently unnerving tone supported by the reality of its characters and their struggles. It has faults, but I found it absolutely fascinating and, perhaps the best praise for a streaming drama, addictively engrossing.
At the forefront of the show's success is its spellbindingly excellent cast. I cannot sing their praises highly enough here – every single performer in Little Fires is on top form. At the centre are leads (and co-producers) Reese Witherspoon and Kerry Washington, whose riveting conflict forms the basis of the plot. Witherspoon is nothing short of perfection in her role as Elena Richardson, capturing the personality of a deeply flawed woman whose 'good intention' is on the brink of crumbling at the slightest irregularity or challenge. The way in which Witherspoon is also unafraid to play up her own privileges is excellent, helping to inform Elena with an instantly recognisable façade that puts her at perfect odds with Washington's mysterious character Mia. Washington has received criticism from some audiences for her portrayal of Mia, and admittedly for a while there was an aspect of her performance I struggled with. Mia, seemingly intentionally through Washington, appears consistently angry, and despite wanting to keep a low profile she makes little effort to hide her frustration. For a while this comes off as a bit one-note, and I can understand why this aspect of her performance has generated critique. For myself, however, what made Mia fascinating is how she is a woman of many secrets who can't hide her face. Like a mirror to Elena, she is also struggling with the possibility of breaking at the next clash, the weight of her secrets approaching boiling point. Washington is smart to imbue Mia with just as much good and bad as her character's rival, and she and Witherspoon together provide Little Fires with its exhilarating central dynamic.
The supporting cast are equally as brilliant. Joshua Jackson manages to make Elena's archetypal 'nuclear husband' figure into an engaging role, whose quiet quarrels with his controlling wife build towards a satisfying climax. Rosemarie DeWitt and Huang Lu take the roles of two mothers on either side of Elena and Mia, whose conflict I won't spoil here, but the pair play their heart-breaking story with great nuance. The younger cast is also phenomenal – I could talk about each of their brilliant performances in their own paragraphs – but particular praise has to go to Lexi Underwood as Mia's daughter Pearl and Megan Stott as Elena's youngest Izzy. Pearl is perhaps the closest that Little Fires gets to a more clearly defined 'innocent' character, but Underwood plays her with no less realism and soul, making Pearl profoundly sympathetic in the process. Stott's character could not be more different to Pearl, but she makes the rebellious teen Izzy into a tragic figure who suffers terrible ostracizing but still has a lot to learn herself. The casting for all the child characters is also truly inspired in how insanely alike they look to their parents' actors. Jade Pettyjohn, playing Elena's eldest daughter Lexie, is a dead ringer for a young Reese Witherspoon, and Stott looks just like Joshua Jackson's would-be daughter (fitting as she is the only child that Elena cannot connect with). In a similar vein, the fantastic AnnaSophia Robb and Tiffany Boone play young Elena and Mia respectively in flashbacks, not only looking the part but managing the difficult task of imitation while still informing the characters.
Thematically, Little Fires balances a number of ideas brilliantly, particularly that of motherhood, sexuality and economic inequality, but the way in which Tigelaar and her writing team incorporate the central through-line of race is expertly done and must be mentioned. The show is an education on how race plays such a damaging role to those in society who don't meet the deeply-set status quo of towns like Shaker and the wider USA, no matter how progressive they claim to believe. The show examines and explores this better than anything I could write here, and as a result I implore any reader to watch it on this basis alone, as it highlights prominent issues faced by black people and other ethnic minorities still to this day. The line of racism, in its many forms, runs through the entirety of Little Fires as the other gripping elements build around it, making the show an excellent means to introduce this discourse to audiences who otherwise wouldn't have actively sought it. It highlights what many don't even consider to be subconscious, and a review of Little Fires could not go without mentioning how well this is addressed by Tigelaar and company.
I mentioned in my introduction that the show refuses clarity, and it does so with a purpose. For a one-season miniseries, Little Fires does not wrap things up in a neat bow, nor do any of its characters fully embody any one morality, but it maintains its realism as a result. The show is not perfect; its eight episode run means that certain plot elements are skipped a little too quickly. This occasional leap over good drama between the characters can be a bit disappointing at times. It could easily have warranted ten chapters to help flesh certain things out a bit more (in particular, a crucial reveal of a key decision that is made in episode six). It's not too damaging, but is one of a few moments where the struggle to adapt a character's internal monologue from page to screen is made apparent.
Regardless, Little Fires Everywhere is an excellent show that I would recommend to anyone. Taking characters that can't be placed in any 'good or bad' camp, representing its sides equally and remaining open to viewer interpretation, the show tests notions of 'black and white' in every sense of the phrase. With thought-provoking themes, a truly exceptional cast and a compelling tone, Tigelaar, Witherspoon and Washington have crafted a totally immersive adaptation and one of 2020's best new shows.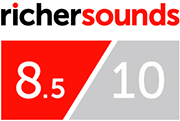 Author: Tom, Chelsea store