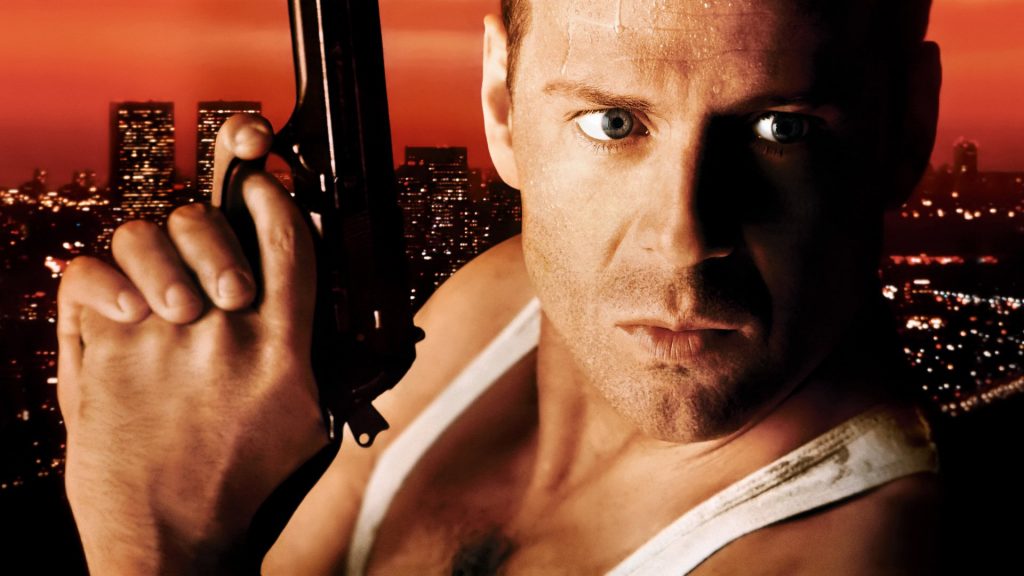 A good action movie can get the blood and fists pumping, and streaming offers some of the most premiere punches, killer kicks, and exciting explosions around. Below are our picks for ten of the best action movies that you can stream today (as of the time of writing). There's two for each of the UK's top five streaming services, so there is something to watch for everyone!
Netflix:
The streaming service of choice for many, Netflix's library has expanded massively since its launch in the UK, finally coming closer to the variety offered by its US counterpart. There are action favourites aplenty to be found here, and below are two of our choices:
Breakdown (1997, 15):
This is a criminally overlooked action thriller from director Jonathan Mostow, who channels Hitchcockian tension throughout the movie's taught 93 minute runtime. Kurt Russell and Kathleen Quinlan star as a couple whose car breaks down on a cross country trip to California, only for disaster to strike when the wife disappears. In a desperate search, the husband soon uncovers a chain of crimes that may lead to his missing wife. A fantastic performance from Russell and expert direction under Mostow make the most of this tense premise.
The Raid (2011, 18):
Considered to be one of the best action movies of the decade, The Raid is a pulse-pounding exercise in spectacular stunts and fight choreography. When a S.W.A.T team is trapped in an apartment block ran by a ruthless mobster, danger lurks around every corner as the site's brutal criminals converge on the team. Unrelenting, visually arresting and expertly crafted, The Raid is rightfully a go-to action classic.
Amazon Prime Video:
Prime Video gets a lot of content from across the globe, and it's often difficult to find the best movies that are buried beneath the tiers of services it offers. From Prime membership streams, to paid rentals, to full-priced purchase releases. Here are two great action movies that are included in your Prime membership:
John Wick (2014, 15):
Keanu Reeves' first outing as the cunning hitman is thrilling even now, two sequels later. The retired Wick is forced to return to his old ways when a group of Russian gangsters invade his home and kill his dog, which was gifted to him by his late wife. What follows is some of the most brilliantly framed and expertly choreographed action of the 2010s, with Reeves' dedication to his own stunts and mastering of the so-called 'gun-fu' fighting style. Brutal, slick and extremely entertaining, John Wick is action at its best.
Mad Max: Fury Road (2015, 12):
Director George Miller returned to his post-apocalyptic Aussie world after 30 years of absence and delivered one of the most stunning feats of action cinema (at the age of 70 and after two Happy Feet movies no less!). This time Tom Hardy and a standout Charlize Theron take the lead, where the revving engines and exhilarating car battles are but the foundation in this modern classic. Gorgeous cinematography, subtle storytelling and a commitment to awesome fun make Fury Road a truly glorious ride.
Now TV:
Sky's streaming service was able to utilise the British media giant's vast library of licenses to provide some of the most popular movies available on streaming, with a huge library of action favourites. Below are two top picks, both from stalwart action director John McTiernan:
Predator (1987, 15):
Sly subversion is at the heart of this Arnold Schwarzenegger action classic wherein a team of soldiers find themselves caught in the hunt of an extra-terrestrial trophy hunter. What made this such a treat for the genre back in the 80s, and still does today, is seeing the often superior Schwarzenegger and his muscle-bound team so helpless to the creature's threat. The tension, thrills and action is all amplified when the reliable heroes become the prey, building towards one of the most memorable showdowns in action cinema.
Die Hard (1988, 15):
Best action movie ever made? Best Christmas movie ever made? Both? Whatever time of year, Die Hard remains a staple of the action genre. The movie that spawned many sequels and made Bruce Willis into a star continues to exhilarate audiences today as they watch the loveable, wise-cracking cop John McClane save his wife and other hostages trapped in a terrorized office block. Topped off with the excellent Alan Rickman, who steals the show as the villainous Hans Gruber, your action movie night can't go wrong with Die Hard.
Disney+:
Disney came out swinging with a great new streaming service, having some great actioners to choose from that the whole family can enjoy. Here are two gems:
The Rocketeer (1991, PG):
Fans of period pieces and action movies alike will find a lot to love in Disney's often overlooked The Rocketeer. Set in 1938 and centred on the invention of a magnificent jetpack, a stunt pilot acquires the prototype and learns to fly while contending with the evil Nazi operatives who want it for themselves. Director Joe Johnston is no stranger to the period, having been an effects technician for Raiders of the Lost Ark and director of Captain America: The First Avenger. Under his eye, The Rocketeer is a fun and thrilling action ride for the whole family.
Pirates of the Caribbean: The Curse of the Black Pearl (2003, 12):
Disney's first foray into what would become a blockbusting mega-franchise is still considered by many as the best of the lot, and with good reason. Johnny Depp's flamboyant drunk Captain Jack Sparrow shot into pop-culture legend in this adventure where he becomes entangled in the quest to lift a curse put upon his old ship and its crew. With Gore Verbinski helming some of the most magnificent action that can be seen in a Disney flick, utilising cutting-edge special effects and all supported by Klaus Badelt's now classic score, The Curse of the Black Pearl is action adventure done flawlessly.
Freeview Play:
Uniting all of the UK's Freeview services (BBC iPlayer, ITV Hub, All4 etc.) under one umbrella, Freeview Play is a great tool to explore what freebies you can find without needing to dash between all the different apps. Below are some action greats from its 'Movies' section:
Slow West (2015, 15):
Don't let the title fool you, Slow West burns towards some truly tense action and holds a consistently off-beat unpredictability throughout its tight 84 minute runtime. Kodi Smit-McPhee plays a naïve Scot trailing through 1800s Colorado in search of a lost love when he comes across bounty hunter Silas, played by the always excellent Michael Fassbender. Silas offers the teen a fair protection deal, but he keeps his true motives for helping him a secret. A fascinating mix between Wes Anderson and the Coen Brothers, Slow West is a gripping post-modern Western.
Attack the Block (2011, 15):
Star Wars star John Boyega made his film debut in writer/director Joe Cornish's horror-comedy-action hybrid. Set in a South London council estate, a gang of teenagers must defend themselves from an invading force of predatory aliens. Matching thrills and satire with a distinctly British flavour, Attack the Block has surpassed its initial box-office underperformance to become a cult classic among fans of its many genres. Hilarious and exciting in equal measure, and with some social commentary as biting as its aliens, Attack the Block is a British movie staple.
Are there any more action movies that you would recommend? Let us know in the comments below, or via our Facebook page or Twitter and show some appreciation for your favourite action movies!
Author: Tom, Chelsea store