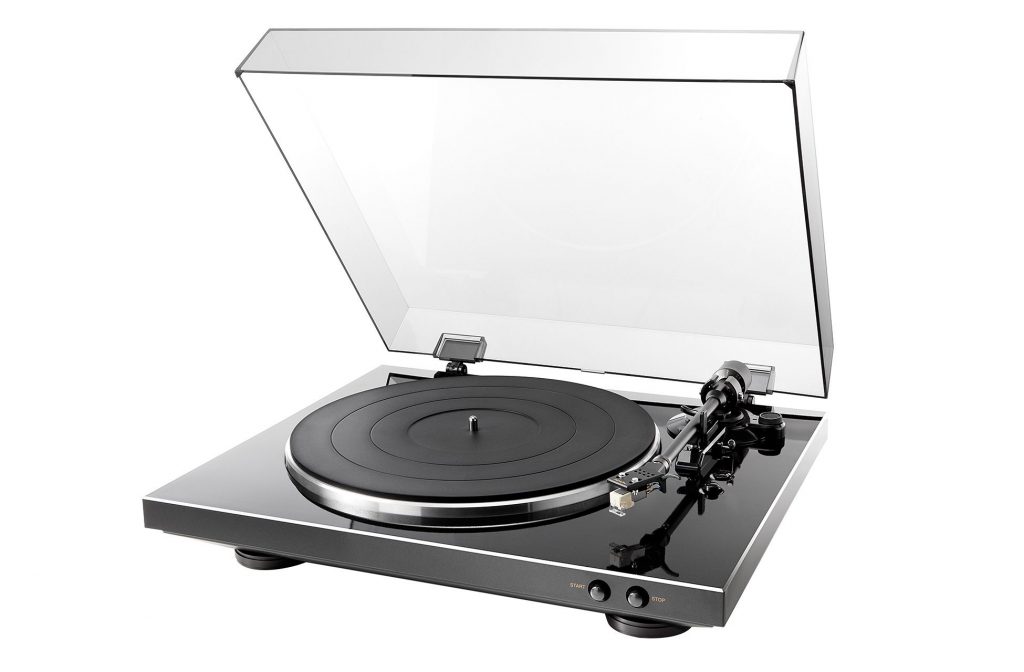 Today we are looking at that most important of products for vinyl listening – the turntable. And where better to start than with one of the very oldest hifi companies, Japan's 'Denon' – a brand that began life in 1910! Join us for a closer look at the Denon DP300 turntable, as well as a couple of other essential components…
It's worth pointing out that the DP300 isn't strictly speaking a new product, having been on the market for a few years now. What it IS, though, is a solid step-up model for anyone looking to get deeper into the vinyl revival, as well as an excellent choice for first-timers, too.
Straight out of the packaging, it's obvious that this is a turntable that means business – particularly when first laying eyes on that meaty tone-arm. The counterweight adjustment and removable head-shell on this metal-bodied arm give plenty of flexibility for future cartridge upgrades, and promises to get the most out of your records from the off.
The 4mm-thick cabinet goes a long way in reducing vibrations, as does the aluminium platter, and the full-size casework makes a handy accompaniment to our test system – Marantz's multi-award winning PM6007 amplifier, CD6007 CD player and the fantastic B&W 603 S2 loudspeakers. A built-in phono-stage also makes for an easy hook-up to any amplifier.
The eagle-eyed amongst you will have spotted the inclusion of Marantz matching CD player listed above (no fighting down in front, Analog vs. Digital fans!). Wanting to have an established reference point, we chose the CD6007, rather than another turntable, giving us the best of both worlds, and allowing us to pick CD versions of albums we have on LP, too. All components had been run in properly before listening.
So, on with the listening! First record up is one of my personal favourites of 2020, Bob Dylan's Rough and Rowdy Ways. As a self-confessed 'Bobcat', this album was always going to be near the top of my album-of-the-year list, but it also caught the imagination of the wider public, securing Dylan some of his strongest reviews in a decade or more. With production handled by Jack Frost (a Dylan pseudonym) and with instrumentation from his long-time touring band, Dylan's words are framed by often skeletal backing, letting his lyrics float in their own space, leaving the listener to soak up the literary, pop culture and historical references.
Cross the Rubicon, without question my favourite track on the record, sounded superb through the DP300 / PM6007 / 603 S2 combo. Dylan's guttural growl, over which his control has improved dramatically in recent years, sits wonderfully against the Blues framework provided by his band. The vocal, locked tight in the middle of the soundstage, oozes charisma, demands attention, doesn't care what you're doing, and frankly, sounds fantastic. A switch to the the CD version shows the same excellent soundstaging and placement, but Dylan's vocal feels that little bit brighter, a tad pinched during the top notes. Dare we say, the record sounds more 'analogue'???
Switching things up just a smidge – well, quite a bit, actually – our next record is the 2014 Aphex Twin release, Syro. Another personal favourite, both as a demo disc and for regular ol' listening, The squelchy electronics and myriad left turns are a fine test of timing and system dynamics. The DP300, Marantz and B&W setup handled itself with aplomb. Listing the track names of an Aphex album is an uphill task for even the most dedicated enthusiast, as "syro u473t8+e" (piezoluminescence mix) proves, but the music stands on its own, and the 141 BPM blast of this particular track is a riot to listen to.
Switching to the CD version, the slightly lit-up treble actually helped here, I felt, with a smidge more in the way of dynamics, but honestly, personal preference would be best adhered to on this one (yes, I know, such a cop out!).
When the time came to stop listening I felt that my strongest takeaway was that this 'budget' turntable performed remarkably well, as did the matching components put together for the review. This might be all the hifi that some folk ever really need, and that's fine – but it also showcases just how fantastic music can sound through a well-designed hifi setup, and why we're all still upgrading as we go all these years into our hobby: to get that little bit closer to the music that we love.
Author: Chris, Liverpool store