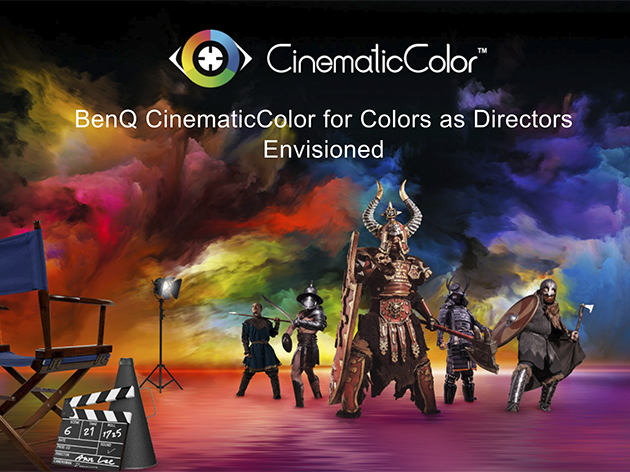 I know what you're thinking right now, "What is BenQ CinematicColour Technology?". Well good friend that's why this article exists so we, together, can explore all that's possible when BenQ put their all into something.
So straight off the bat we have a clue as to what we're looking at here, with "CinematicColour" immediately telling us that this tech is all about colour and even more so about how colour effects a cinematic experience. And when you're talking colour, the new main perpetrators that are going to burst into the room will be 'Rec. 709' and 'DCI-P3'.
Rec. 709, in its simplest terms, is the internationally recognised objective colour standard for High Definition video. This means that if you're watching something that can produce Rec. 709, then you can be sure that the colours you see are the colours the director intended. DCI-P3 goes one step further adding an additional 26% into the colour gamut than that of Rec. 709, essentially giving you a much wider RGB colour space and adding even more accuracy to your image. With this in mind, let me tell you now that BenQ CinematicColour Technology achieves both of these standards. So we're talking complete colour accuracy to the nth degree, and complete light accuracy utilising Illuminant D65 to accurately give you the best white starting point.
Next, we turn to Delta E. I'm going to be honest with you and say that you do not need to know the complete ins and outs of this evolving over generations colour difference formula. All you need to know is that it has a value of 1-100 with 100 being exact opposite and 1 pretty much being what humans can perceive as different colours. CinematicColour offers a value of less than 3, and if you know numbers, then you can see that's a real low number that's going to give you some absolutely exquisite accuracy in colour.
Now there's a lot more science that you can read into if you really want to, but what I'm saying to you right now is that any projector from BenQ that utilises BenQ Cinematic Colour Technology is going to give you a intensely realistic image when it comes to accuracy in the colour spectrum. Like most things in life there are multiple series of BenQ projectors you can opt for depending on exactly what it is you want from your viewing experience.
Starting at the top is the 'CinePro' series which gives you the maximum that Cinematic Colour Technology can offer. That means you're getting DCI-P3 and 100% Rec. 709. You'll also be getting an all-glass lens array made of 14 different elements to give you perfect 4K clarity. It also comes complete with both a colour gamut test and factory calibration as well as a factory certified calibration report. These are the projectors that you go for when you're looking to turn a large spare room into a pure cinema experience.
Next is the 'CinePrime' series. Giving you the same capability with DCI-P3 and 100% Rec. 709. Lens wise you're looking at an 11 element all glass lens array so you'll get light penetration and colour performance. Like the CinePro series they also come with a colour gamut test and factory calibration as well as a factory certified calibration report. These are the projectors to go for when you're looking for a projector to go into a small to medium size cinema room and would be, what I consider, perfect for most at home cinema needs.
Lastly is the 'CineHome' series. Giving you 96% Rec. 709 (yes that is less than 100% but it's still way up there when it comes to colour accuracy) because of this it still comes with a colour gamut test performed on it. For me this is the go-to series if you want a projector but aren't looking to create a new dedicated cinema room. Adding it to your living room as a movie night projector would be a perfect use for these models.
So, in short BenQ CinematicColor Technology means better colour, more accurate colour separation and precise visual performance the likes of which will give you a near perfect viewing experience.
The last thing to remember is that projectors are a deeply individual affair so please ring or pop into your local store so you can talk about throw ratios, distances, sound systems and everything else that making a projector fit into your personal environment requires. Also we do offer a 'Free on Site Survey' within 10 miles of your local store, so do keep that in mind if you're completely stuck on where to go with any audio/visual project!
Click here to see our full range of BenQ projectors
Author: Hal, Plymouth store