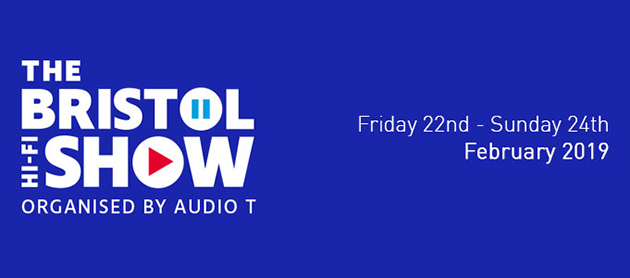 Like a football fan at the start of a new season, our favourite time of year arrived once more as audio brands collectively took over the Marriott Hotel for the annual Bristol Hi-Fi Show.
Speakers, headphones, interconnects and electronics; it's all on display and ready to fill your ears with sweet music. As ever, we made the short trip down from the shop to check out the new bits and pieces and we've collated our favourites here…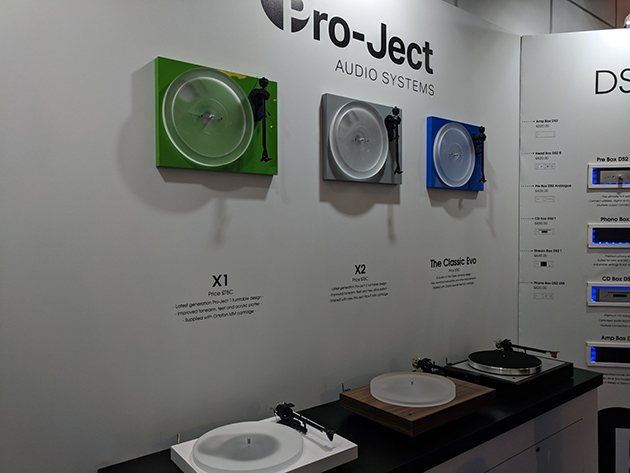 The analogue enthusiasts among you will be familiar with Pro-ject as being one of the lead brands of turntables for the last few years. Every model that is released by the company ends up with glowing reviews and awards which is why we certainly were excited to see not one, or two but three prototypes on display for some new lines due later this year! The X1, X2 and Classic Evo will be coming soon and will be available in gloss black or the stunningly pretty walnut finish. All will feature an improved carbon tone arm, feet and platter, while the X2 and Classic Evo will have a new drive system and the latter a new aluminium sub-platter too. Judging by what has come before, these will be a real treat for old-school hi-fi enthusiasts.
---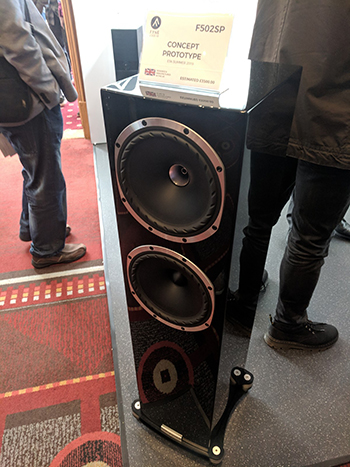 Securing awards for a debut product is pretty good going but doing it with two separate products in the same year deserves a pretty big pat on the back indeed. In 2018 Fyne Audio did just this with two floorstanding speakers (the entry level F302 and the mid-level F501) and at the Marriott we were treated to a prototype of the upcoming F502SP. By taking the existing F502 speaker and upgrading the drivers, crossover and plinth, Fyne Audio hope to expand their trophy cabinet with even more shininess. If last year is anything to go by we seriously can't wait to hear these for ourselves, but until their release later on in 2019 we'll just have to drool over the picture we took instead.
---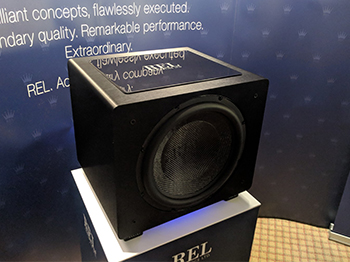 For those serious bass junkies, nothing beats a REL subwoofer for sheer impact. Whether it's for surround sound or stereo, REL's range of subwoofers are one of our most popular lines for getting more "thump" into your system. Along with their existing Ti and HT lines REL were also showing off their newest addition, the HT/1508 Predator (which as far as names go is very cool!). Fitted with a 15" 'CarbonGlas' driver for fast and accurate delivery and 800 watts of power, this large sub is still relatively practical and simple in its design.  Two rails instead of 4 separate feet support the cabinet to fully cope with the output it can produce and the 25mm plate on top dampens vibrations in the cabinet. The rear panel has RCA, LFE RCA and LFE XLR inputs/outputs to accommodate most systems and link up to other REL subs for when you seriously need to assault the senses!
---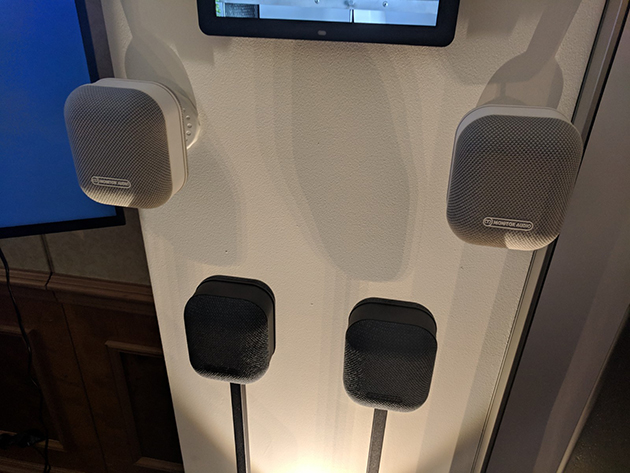 A stalwart of our home cinema packages for the last five years, speaker giant Monitor Audio have given their very successful MASS 5.1 speaker package a complete makeover inside and out. The second generation MASS now feature flat, square satellite speakers with a pleasing woven covering that conceals the speaker terminals on the rear. Tuned to give a wide dispersion of sound, the two way speakers can be mounted on the existing MASM wall mounts or the redesigned MASS floor stands.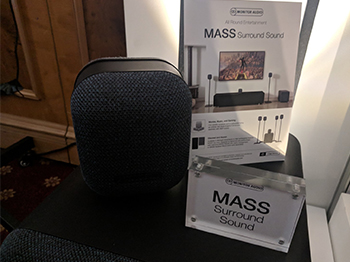 The matching subwoofer utilises an 8" long throw front facing driver which is powered by 120 watts of amplification and, being slightly smaller than the previous iteration, can be secreted away more easily so as not to be as obtrusive as its predecessor. Available in "Midnight" (dark grey) and "Mist" (light grey) finishes you can expect to see these in stores in March.
As if this wasn't enough we also get an updated version of their Gold series hi-fi speakers! Now in its fifth generation, the range features the Gold 100 standmounts, Gold C250 centre, Gold FX surround speakers, Gold 200 and 300 floorstanders plus the Gold W12 powered subwoofer. Driver components and tech borrowed from the flagship Platinum series has been incorporated to improve performance and will be available in gloss black, satin white, dark walnut and piano ebony. Based on what we saw at the show, if these speakers sound anywhere near as good as they look they'll definitely be much sought after!
---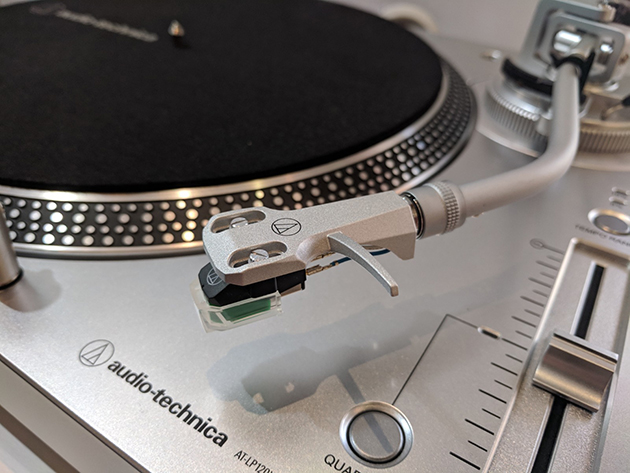 A very popular choice for DJs, the new ATLP120XUSB now has RCA terminals rather than a non-removable cable, a new cartridge and a lower torque direct drive motor showing plenty of marked improvements from the previous model. As one of the regular brands used for replacement cartridges and stylus, Audio Technica has also updated their VM95 range. Improvements include a more rigid design for lower resonance, a new coil for increased output voltage and an easier mounting system that no longer requires nuts to fasten it. On top of this all stylus are designed to be easily interchangeable and upgraded.
---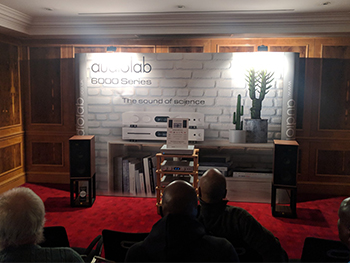 Fresh off the back of a glowing review for their 6000 series amplifier at the end of last year, Audiolab are seeking to continue their momentum with their new matching Wi-Fi streamer, the 6000N. Hi-Res DLNA streaming from NAS drives and computers, connectivity for various services like Spotify, Deezer, Amazon Music and Tidal as well as the open source multiroom platform DTS:Play-Fi make this a very tempting proposition. A couple of digital inputs mean that the internal ESS Sabre32 DAC (the same chip that's in the 6000A) will polish digital signals from cabled sources to a fine shine, so even if you're not matching it with the Audiolab amplifier you can still get the benefits of that airy spacious sound.
---
That's it for another year then with our appetites suitably whetted for all this lovely new gear. Look out for announcements on our VIP mailing list or social media for when all these become available to check out in store!
Author: Steve, Bristol store