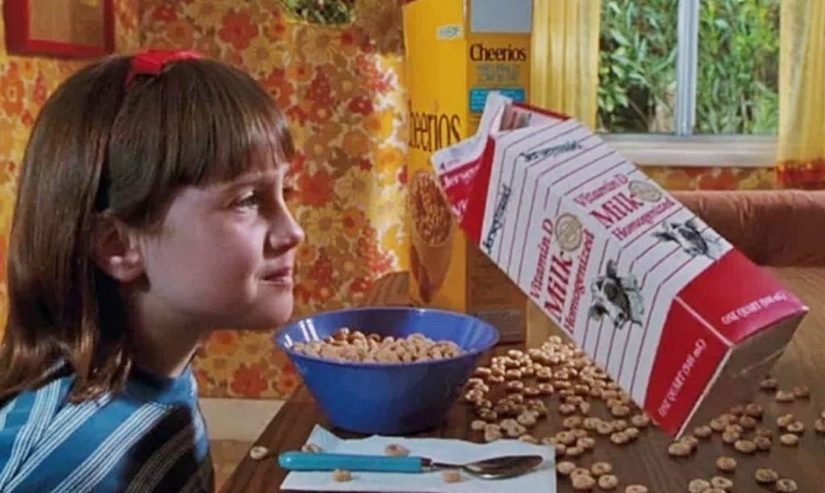 Whether you want to keep the kids entertained for the day or have a cosy family film night planned, streaming offers some great options for movies we can all enjoy together. Below are my picks for ten of the best family movies that you can stream today (at the time of writing). There's two for each of the UK's top five streaming services, so there is something to watch for every family!
Netflix:
The go-to streaming service of choice for many, Netflix's library has expanded massively since its launch in the UK, finally coming closer to the variety offered by its US counterpart. There are family favourites aplenty to be found here, and below are two of our choices:
Matilda (1996, PG):
Danny Devito directs and stars in this quirky adaptation of the Roald Dahl novel about a smart young girl with special powers. Mara Wilson's Matilda is brilliant role-model for younger children and watching her overcome the obstacles that face her is uplifting for kids and parents alike. Pam Ferris steals the show as Miss Trunchbull, perhaps one of the scariest teachers ever put in a family film, but under Devito's creative and lively direction Matilda masters its wonderfully timeless Roald Dahl tone.
Monster House (2006, PG):
With twists, turns, scares and thrills aplenty, kids will love the creepy atmosphere of Monster House. The exploration of the titular house plays more like walking through a living creature than a stately manor, and the lively voice cast and unique animation style keep the film constantly engaging. The film was co-produced by 80's icons Robert Zemeckis and Steven Spielberg, so adults will equally enjoy the throwback to The Goonies era of adventure.
Amazon Prime Video:
Prime Video gets a lot of content from across the globe, and it's often difficult to find the best movies that are buried beneath the tiers of services it offers. From Prime membership streams, to paid rentals, to full-priced, purchase only releases. Here are two great movies that adults and kids will enjoy that are included in your Prime membership:
Paddington (2014, PG):
With both Paddington films becoming two of the most acclaimed movies of the last decade, you can't go wrong with whichever one you choose. In this first entry, kids and their parents will love watching the adorable, marmalade-loving bear go on his first big adventure, finding his family and home. Warm, witty, and with top-notch performances all-round, Paddington is a quintessential family movie.
Ready Player One (2018, 12):
Based on Ernest Cline's bestseller of the same name, the perfectly matched Steven Spielberg directs this energetic run through the pop-cultural zeitgeist. Taking inspiration from video games and including a bevy of recognisable movie characters, Ready Player One is an unashamed rollercoaster of nostalgia. The virtual reality world will appeal to kids of the gaming generation while their parents spot the film's countless references, jokes and stars of cinema past.
Now TV:
Sky's streaming service was able to utilise the British media giant's vast library of licenses to provide some of the most popular movies available on streaming, with a huge library of family favourites. Below are two top picks:
Stardust (2007, PG):
Tristan (the excellent Charlie Cox) promises his beloved that he will fetch her a star that just shot from the sky, only to find that the star is a person, played by the charming Claire Danes. This modern twist on the fairy tale genre has a wonderfully off-kilter sense of black humour, with a cast of incredibly game supporting actors that includes Michelle Pfeiffer, Mark Strong and Robert De Niro. Kick-Ass and Kingsman director Matthew Vaughn laces Stardust with a sharp satiric edge that kids and adults will find equally striking.
School of Rock (2004, PG):
Jack Black became a star after his performance in this Richard Linklater directed family classic, wherein a washed-up rocker takes a substitute teaching job. Black's energy is unmatched, the script is pitch-perfect, and the soundtrack will be stuck in your head for weeks. With a cast of terrific young actors in support, School of Rock is a hilarious and uplifting bolt of chaotic rock energy.
Disney+:
Disney came out swinging with a great new streaming service that unsurprisingly has more family movies than any other service. Here are two gems:
The Game Plan (2007, U):
Dwayne 'The Rock' Johnson stars as a big-headed American Football star who suddenly finds out he has an eight-year-old daughter, played by the adorably cheeky Madison Pettis. Disney takes the tried and true formula of action-star meets cute-kid and amplifies it with the charisma of its two leads. Funny, heartfelt, and one of the best examples of this classic family story, The Game Plan is perfect family-night viewing.
The Parent Trap (1998, U):
One of the few remakes that is widely considered to surpass the original, a young Lindsay Lohan is exceptional in playing two identical (but very different) girls who discover they are long lost twins. The effects and trickery used to place Lohan in the dual role is still flawless today, with the young star not only playing the two characters effortlessly, but also able to play the two girls playing each other once they decide to trade lives. The Parent Trap is heart-warming, endearing and all about the importance of family.
Freeview Play:
Uniting all of the UK's Freeview services (BBC iPlayer, ITV Hub, All4 etc.) under one umbrella, Freeview Play is a great tool to explore what freebies you can find without needing to dash between all the different apps. Below are some family greats from its 'Movies' section:
Daddy Day Care (2003, PG):
Eddie Murphy and Jeff Garlin are two dads who create a child's day care business after being fired, only to find that their idea becomes far more successful than they ever planned. Eddie Murphy became a family movie staple in the late nineties and early 2000s, and Daddy Day Care is no exception to this success. Parents and their children will enjoy the adults' exasperated attempts to corral the manic bunch of kids, and Murphy and Garlin make the most of some zany set pieces.
The Hunger Games (2012, 12, note: this one has to be streamed through the free My5 app):
The saga of Katniss Everdeen was something of a phenomenon at the start of the last decade, telling a dystopian tale of a brave young woman forced to fight for her survival. Jennifer Lawrence became a household name after her strong and committed portrayal of Katniss, and the first chapter of this four-part series is still as thrilling today, with some excellent set design and an intense atmosphere that will keep the whole family hooked.
Are there any more family movies that you would recommend? Let us know in the comments below, or via our Facebook page or Twitter and show some appreciation for your family's favourite movies!
Author: Tom, Chelsea store