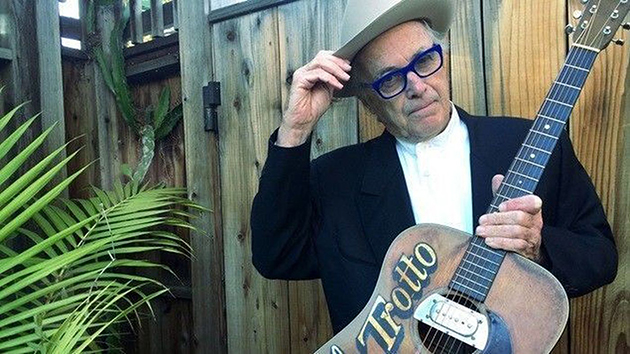 Ry Cooder is back once again, touring North America again after a well deserved 9 year break. 2011's Pull Up Some Dust and Sit Down was fuelled by political themes, as was the aptly named Election Special which he released in 2012; how will his new album The Prodigal Son compare?
Cooder thoroughly deserves to be renowned around the globe as one of the best of the best. He remains one of the most eclectic, flexible and talented guitarists the world has ever known. During his staggeringly lengthy career, his collaborative projects have included fellow legends Eric Clapton, The Rolling Stones, Van Morrison and Neil Young. In fact, Rolling Stone magazines 2003 list of the 100 Greatest Guitarists of All Time ranked him a respectable 8th place, Gibson guitars' 2010 ranking placed him at #32. His music has earned him multiple Grammy Awards across two decades, during which he has composed film scores and produced records for others as well. He has been playing the guitar since the tender age of 3 (just a year later he reportedly stuck a knife in his left eye, resulting in the need for a glass replacement).
After growing up in Santa Monica and Los Angeles, he then studied briefly in Portland, Oregon. Best known for his slide-guitar action (heard this time around on the grand "Nobody's Fault But Mine"), this diverse, skilful artist may be known by others for his production credits instead. For example Cooder produced many other styles than you may expect, perhaps highlighted best in exploring Latin America with Buena Vista Social Club on their 1997 self-titled album.
The Prodigal Son marks a return to his earlier styles, where he takes on the role of a storyteller with an all-American back drop. "Straight Street" blues is a great example of this, and however deceptively plain it may be, it still hits the spot. This years project boasts both electric and acoustic guitars mainly, but other instrumentation such as whistles, violins, brass and gospel choirs also appear. His use of whistling on "Gentrification" could sound at home on a friendly TV advert, as he sings about old buildings being sold to Johnny Depp. Cooder has certainly not lost his agility over years, as proved by countless clever riffs. The guitar work is full of movement, avoiding too many guitar solos which more often than not can appear cringe-worthy.
Across 11 tracks, we hear a number of originals, as well as interpretations of music from the Stanley Brothers, Blind Roosevelt Grave and Willie Johnson; plus a few songs from over 100 years ago. As fans have come to expect, there are blatant comments on religion and his own personal atheism, there is also a gospel influence running through the albums veins. This spiritual, hymn-like vibe is described by Cooder himself as "reverence", fusing elements of Americana, country, blues and rock 'n' roll along the way.
Cooder and his son and chief collaborator Joachim (a drummer and percussionist), have worked together to create the albums vision. The result is to the point, short-and-sweet, and is reflected in the albums recording style (which reportedly took just a few days). Cooder describes his studio approach as "one-take live vocals", opting to leave in any mild imperfections. The outcome is a much more honest album than we are used to in 2018. From the jingle-jangle of "I'll Be Rested When The Roll Is Called", to the slow and steady tear jerker "Harbor Of Love"; the album reads like a good book.
This may not be everyones favourite, but Ry Cooder fans will not be disappointed with yet another decent album.