If you've anything more than a passing interest in technology (and let's face it, you probably have if you're reading this!), then you've probably caught wind of the recent announcement by Samsung of their new 8K TV range.
Now, before you go tearing your hair out over your recent 4K television purchase, it's probably best that we explain a little bit about why these TV's have been made – and why it doesn't spell the end for 4K TV just yet.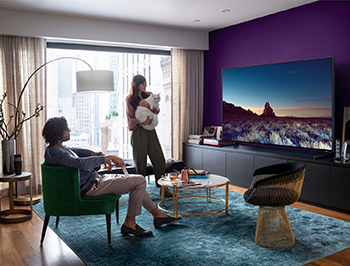 There's absolutely no doubt that the average living room television is getting larger with each purchase. The advent of 4K TV, movie streaming and gaming has seen us all jump up a screen size or two (or four!), and the level of detail that we're now getting is unlike anything that has gone before. Even a basic, entry-level LED TV is likely 4K, and 55"+ screens are getting cheaper all the time – meaning more and more of us have got them. 
If you really want to go for the big screen effect, though, that 4K resolution could almost start to feel a little bit stretched – and this is precisely where Samsung's 8K QLED range come into play. These screens are available in sizes starting from 65" and currently take in a 75" and 85" model! Once we're playing with screens of this size, having an increased resolution is certainly very handy, if not crucial.
8K is exactly what it sounds like when comparing to 4K – twice as many pixels, and whilst there is currently very little 8K content around, the main draw with these premium sets is their ability to 'upscale' any incoming 4K image (or lower), and dramatically increase the perceived level of detail across the 33 MILLION pixels that make up the display. Samsung have used their own, unique QLED TV panels when designing the 8K screens too meaning that they offer staggering levels of brightness in comparison to a normal LED TV – and most importantly, against a projector, which is the more likely competitor in this massive size bracket.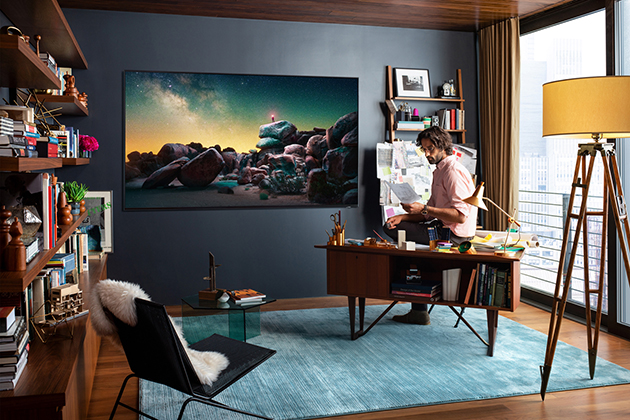 In practice, this upscaling of 4K images, coupled with the vibrant and realistic colours and brightness of the QLED are truly staggering. At a recent launch show that we attended, it was clear this extra increase in resolution was absolutely something to shout about. All of the hallmarks of the smaller QLED range are here too, with the stunning design cues that Samsung have long been known for, and the excellent range of Smart features that are expected from any Samsung set. The in-built AI capabilities also make this one of the, ahem, smartest TV's on the market, helping to make navigation and content selection a breeze.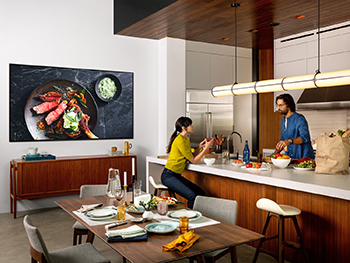 And if you're worried at all about having such a big TV leaving a big, blank space on your wall when it's off, then you'll be delighted to hear that Samsung have included their superb 'Ambient' mode for these 8K QLED's, allowing the TV to seamlessly blend into the background of your room by matching the pattern or colour of the wall it is displayed on. They've thought of everything!
8K QLED TV's will be hitting our stores soon, so call or pop into your local store today, and speak to one of our experts about what 8K can do for your home viewing and to register your interest today! 
Pre-order now and get a complimentary No-Gap wall mount, worth up to £149.95, plus free delivery and installation (within a 10-mile radius of purchase). Other terms & conditions apply. For pre-order details, and to view the range, click here.
Author: Chris, Liverpool store