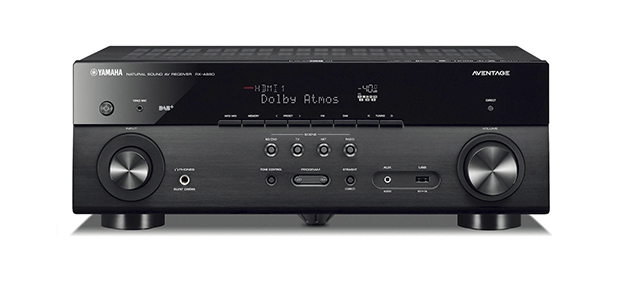 We all want the best of everything, but for plenty of reasons we can't always have all we want at once. Or at least that's what we believed before the emergence of Yamaha's Aventage line of AV receivers. Read on to find out what we thought of the RXA680, a surround sound amplifier which also packs a musical punch…

With the Aventage range of AV receivers Yamaha has set out to build an amplifier which gives you the best of surround sound while also providing a great stereo system for your music. The RXA680 is the entry point in this product line, but still provides a host of reasons to consider this for your next home cinema upgrade.
The RXA680 is designed to provide the features and sound quality that we've come to expect from a stereo amplifier. Features such as a DAB radio and a phone pre-amp mean that however you consume your music you should find the right connection on this amplifier. Plus, it comes in both black and titanium, ensuring it'll fit into any decor.
Our favourite innovation for this receiver is rather more subtle, however. Underneath the RXA680 is what Yamaha calls an Anti Resonance Technology (A.R.T.) which, to you and me, is an additional foot in the middle of the chassis to provide extra stability and isolation from the vibrations of the internal power supply. It may not sound much, but it shows the thought that's been put into this unit. That extra foot under the unit is just one example of the excellent build quality of it. Yamaha has also added an aluminium front panel to give a cleaner, premium feel to this product. It's a nice touch and neatly hides the range of inputs and buttons on the front of the unit.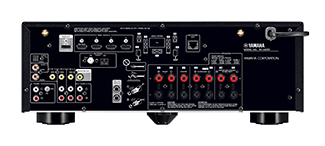 While the RXA680 is obviously designed with music in mind, it doesn't neglect its main role as a fantastic surround sound receiver. It has a range of HDMI ports (4 in/1 out) which are all capable of passing through 4K HDR content, including Dolby Vision, and a range of analogue and digital inputs for other devices. It's good to see a receiver without any compromises when it comes to future proofing, it should be a fair few years before you even need to think about upgrading.
Physical connections aren't the only thing that the RXA680 has plenty of choice in, there is also an array of options for those wanting to stream music wirelessly. Yamaha has included Wi-Fi and Bluetooth in this unit for the greatest flexibility when it comes to connecting devices – meaning you can play music from Spotify and Tidal as well as straight from YouTube. This range of choices makes a nice contrast with some competitors which leave Bluetooth connectivity out altogether.
This year Yamaha has also brought the innovation of wireless rear speakers to its AV receivers for the first time. Using either the MusicCast 20 or MusicCast 50 Wi-Fi speakers you can go without wires and still get a great surround sound experience. This is something we've been crying out for more manufacturers to embrace in-store, so it's great to see Yamaha adding this feature.
Additionally, for those with any Smart home devices there is support for control through an Amazon Alexa speaker. This worked well and was easy to set up when we experimented with it in-store and should provide more options for those looking to simplify their home audio options. Simply command the RXA680 to change inputs and it just works.
We tested the Yamaha RXA680 with a set of Cambridge Audio Min22 speakers and the X301 subwoofer to see what sort of performance you get from this unit. The set up process is always simple with Yamaha and should be easy enough for anyone to handle. There is a YPAO-enabled microphone included for room calibration which certainly helps the balance of the sound. However, it's always worth tweaking these results to your own ear for the best results.
Once we had finished the set up process we popped on a copy of Guardians of the Galaxy: Volume 2 to test the home cinema quality of the unit. Results were good with plenty of surround effect in the opening space battle. We were certainly able to feel the impact of missiles and collisions between ships thanks to the RXA680's superb range.
Next, we tested the musical fidelity of the unit by streaming Talking Heads live album Stop Making Sense. The track "Psycho Killer" is a great test of any amplifier's credentials with the pain in David Byrne's voice as he embraces the emotion of the track. You felt like he was in the room with you thanks to the clarity of the stereo performance of the RXA680. This musical performance made for a compelling upgrade on most AV receivers.
Yamaha has succeeded in creating an AV receiver which performs equally well with the latest movies and with your favourite music tracks. It certainly makes a compelling case to ditch your stereo amplifier and replace it with one box which can do everything you need. It's a great option for those with limited physical space in their homes or simply looking to declutter and merge their music system with their home cinema.
To see if the Yamaha RXA680 is the right option for you why not call in to your local Richer Sounds store and try it for yourself?
Click here to learn more about the Yamaha RXA680
Author: Robert, Brighton store