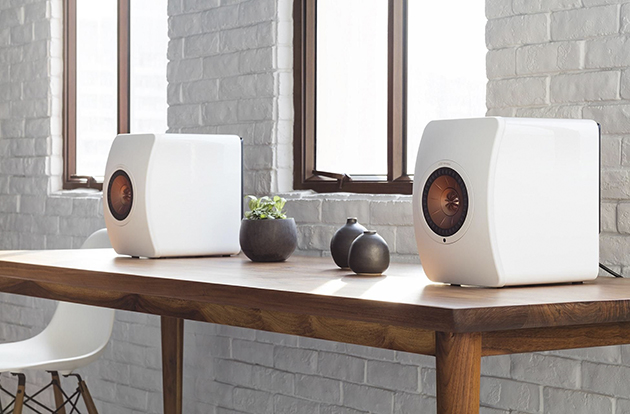 Beauty and brains do not always go hand in hand. Quality sometimes takes a back seat for convenience but with the KEF LS50 Wireless new to Richer Sounds there is no need to make a compromise. Read on to find out what we thought of these hugely popular KEF active speakers…
The LS50 range from KEF has a long and rich history as a fantastic speaker brand. The only hurdle was finding the perfect amplifier to get the best out of them. Thankfully, KEF has developed the new LS50 Wireless as an active speaker with its own amplifiers for each driver. That's two in each speaker, one for the tweeter, one for the mid/bass driver. With its own amplification stage, KEF has not only made it easy to get the best sound from your speakers but has also made it possible to tailor that sound to your room. KEF has used digital wizardry to adjust the amplifiers performance based on information you give it about the room and placement of your speakers. Whether that's on a stand or a desk, we found it extremely useful for getting the best out of these speakers. The speakers come in slick black, white and grey finishes that should fit in easily with most home décor.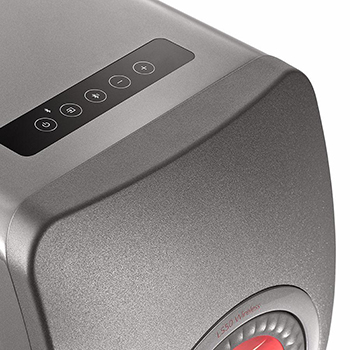 The LS50 Wireless come in a single large box and once popped open features two neatly packed speakers. Each is wrapped individually to keep the premium glossy finish perfect. We were surprised at the weight of each speaker when taking them out of the box. Each speaker feels incredibly premium and that extra heft promises a lot when it comes to performance. Setting the speakers down we find one marked left with only an ethernet port, AC power port and a balance dial to adjust. The right speaker is where the magic happens with a touch panel on the top which lights up for power, inputs select, Bluetooth and volume control. On the rear of this speaker you get an idea of what it can do.
From left to right we have a traditional analogue input, TOSLINK optical, USB for PC connection, subwoofer out and AC power in. Underneath there is a USB service port, an ethernet for networking, speaker EQ controls, a reset button and an ethernet port to the left speaker. The left/right configuration of the speakers is changeable in the app, but we found ourselves thinking it would be extremely confusing with all the writing indicating which way round the speakers should go. Once out of the box we plug both speakers in and link the two with the supplied ethernet cable. We're guided to download the KEF control app for setup. If you have an iOS device this is nice and easy thanks to airplay setup. If not, simply put in your network information and you're away.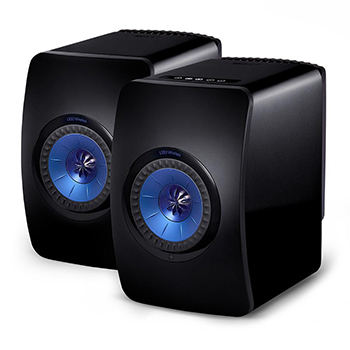 At this point you need to download the KEF stream app which controls playback from the speakers and links into the services such as Tidal, Spotify and Roon. It's a wide selection with a range of Hi-Res sources and the inclusion of Roon in particular is a nice touch. You can also stream from applicable media servers on your network and this is where we start. We stream Adele's "Rolling in the Deep" and are mightily impressed with the range from these relatively small speakers. The width of the soundstage and dynamics of the performance are particularly attention-grabbing. They bear all the hallmarks of KEF's 'Uni-Q' driver design and does the family justice. We were blown away with the quality of sound for the price point, even more so considering the size of these speakers. You'd struggle to find anything better sounding, short of full hi-fi separates.
All in all, we found the LS50 Wireless to be an outstanding pair of all-in-one speakers. We can see these being a great choice for the space-lacking younger generation of music fans. They are incredibly versatile with the ports on the rear and the sound is all you'd expect from KEF. To see if these speakers are the right fit for you, why not contact your local Richer Sounds store today to arrange a demo?
Click here to learn more about the KEF LS50 Wireless speakers
Author: Robert, Brighton store