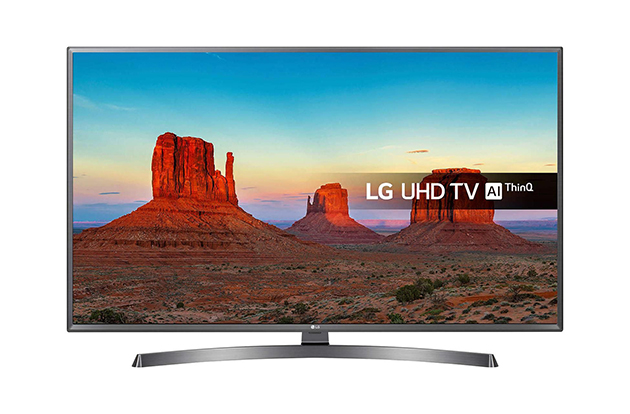 Mid-range 4K TVs are now the norm and thus are probably the most popular sets on the market right now. Picture performance and features come together at a tempting price that means consumers can make use of the latest AV specifications and still afford to pay their bills. If you want to get that little bit extra out of your screen, LG's new UK6750 range should definitely be on your list of possibilities.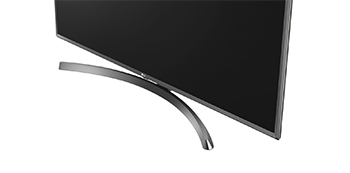 The UK6750 range comes in 43", 50", 55" and 65" screen sizes. Each model sits on a central pedestal with a crescent shaped foot and features a slimline metallic bezel for a pleasing and neat aesthetic. It isn't only looks where this range scores highly though, as the UK6750 has made use of local dimming on the backlit LED array with it's Ultra Luminance technology to increase contrast ratios. It takes unused current from darkened areas of the panel to increase brightness in other areas meaning brighter whites and deeper blacks.
Standard LG features return such as an HD Freeview tuner with Freeview Play built in as well as the excellent tabulated WebOS Smart hub featuring Now TV and Sky Store.  Whether you want access to catch up TV or Video on Demand the customisable bar that appears at the bottom of the screen keeps your often used apps close at hand. You'll also find easy access to inputs, favourite channels, content that you have stored on network hard drives as well as the web browser. Although LG's new ThinQ AI system is included, the magic remote that's necessary to operate it isn't and needs to be purchased separately. Instead, a standard IR controller is supplied featuring buttons for direct access to Netflix and Amazon as well as the simple and uncluttered layout LG has used before.
It's not long since we checked out the lower model UK6400 series at Richer Sounds Bristol and on paper you'd be forgiven for thinking that these two ranges are more or less the same. However, we're pleased to report that although the UK6400 was a capable performer, the UK6750 outstrips it in picture performance in nearly every aspect. Although, when getting our first look using a 4K UHD Blu-ray of Mad Max: Fury Road we were initially astounded and surprised as to how saturated the colours are on the Standard picture mode, so much so that we thought we were in 'Vivid' mode with everything turned up to 11! Thankfully, a few minutes work of lowering the colour intensity and tweaking the temperature to a more neutral hue the UK6750 looks a lot more natural and balanced.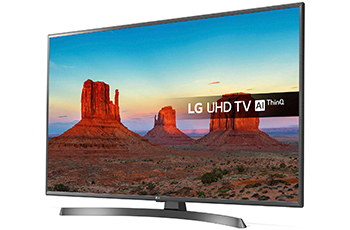 The local dimming of the Ultra Luminance feature means we're treated to a rich and solid image making the most of Max running through dark cave-like passages before bursting out into the sunlight. There's subtlety in the shadows and enough control to make sure the background isn't just a matte finish of greys. Unlike the UK6400 though, the UK6750 keeps up with its competitors by having a better peak brightness so that when the desert sun beats down on the monstrous vehicles racing through the dust, you experience every glint of metal and shimmer off of the sands a lot more vividly.
You may end up swapping to 'Cinema' mode when in darkened rooms at night time as the drop in brightness is more in keeping with watching on the big screen. It's not the type of mode you'd watch sport on as it's less exciting but it's useful for when you want a little more cinematic naturalness. As per usual with most TVs, we take the motion control settings down to a minimal setting (about 3 or 4 out of 10) to get the best mix of smoothness and regularity. This allows fast action to be dealt with effectively but doesn't turn everything into the dreaded "Soap Opera Effect" of looking unrealistically smooth. This also means that when watching lower resolution content we can deal with the drop in detail and fuzziness.
It looks as though LG have managed to tick all the boxes again by keeping the best of the old whilst embracing the new. A bit of slimness to the bezel and injecting some more excitement into the image means that the UK6750 is a good prospect if you want a good all round package. Nip down to your local Richer Sounds and take a peek for yourself!
Click here to learn more about the LG UK6750 TV range
Author: Steve, Bristol store