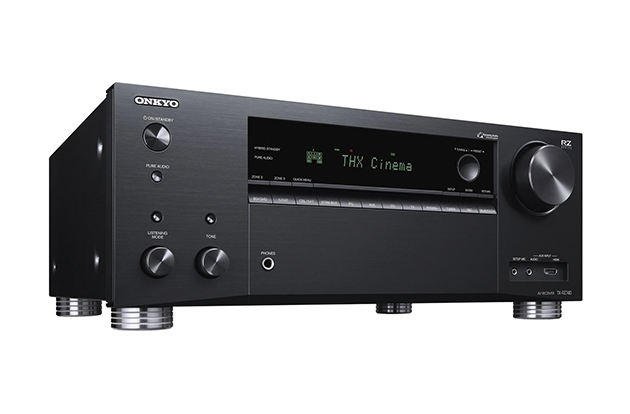 Onkyo's new TXRZ740 brings the thrill of the cinema home.
You don't have to spend the earth to get a quality sound these days and never has that been more evident than in the AV receiver market. For the average lounge, most people would be happy with a standard 5.1 speaker set up and the standard features of audio streaming that those receivers would bring. However, if you're a dedicated fan of films, TV shows or gaming though you need something that's going to make you feel like you're right there in the action and that's where mid-range home cinema comes into its own. Contemporary surround sound formats such as Dolby Atmos and DTS:X add a new dimension (literally) to your soundtrack that's worth spending that extra money. It's also worth making sure that the quality of that sound is up to scratch too.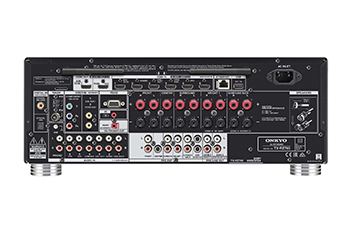 Enter the Onkyo TXRZ740 – a "THX Select" and "IMAX Enhanced" certified 9 channel receiver with more features than you can shake a stick at. The 9 channels of 185 watts (up from 175 on last year's model) plus 2 subwoofer pre-outs can be configured to 5.2.4 for two pairs of ceiling or height speakers for a totally immersive experience. All of the 7 HDMI inputs are compatible with 4K UHD resolution and accept High Dynamic Range colour in the Dolby Vision, HDR10 and HLG formats whilst the main HDMI output is enabled with Audio Return Channel to accept sound direct from your TV's internal features.
Network features are plentiful as is to be expected from this calibre of receiver, with Bluetooth, Apple Airplay 2, Spotify, Deezer, Amazon, Tidal, Google Chromecast (including voice control from Google Assistant). The cross-brand multiroom software of DTS:PlayFi and FlareConnect make an appearance, as well as Internet Radio via TuneIn. If that wasn't exhaustive enough for you, the TXRZ740 also boasts a load of physical connections including digital optical and coaxial audio inputs, a Moving Magnet phono stage for turntables, half a dozen stereo analogue connections AND video inputs for component and composite sources! For custom installations, the TXRZ740 has an RS232 connection as well as IR triggers to make your cinema room as automatic as possible when kicking off a movie night.
Phew! We need a lie down after all of that but we've no time as we need to tell you about the performance of this behemoth.
We decided to set up a Monitor Audio Silver speaker package with the floorstanding 200 at the front, their matching centre and FX speakers as the rears along with the beastly REL T7i subwoofer and Monitor Audio C380IDC ceiling speakers. The Richer Sounds Bristol Experience Room is configured to 5.2.4 and is perfect for this type of AV receiver but it's worth mentioning that you can expand the system to 7.2.4 if you utilise the analogue pre-outs for the back surround channels. The provided microphone makes set up a doddle and allows you to measure from up to 9 different spots in the room to ensure a really thorough calibration.
A 4K UHD Blu-ray of Wonder Woman is a particular favourite of ours at the moment when trying to show of Dolby Atmos content, so is wasn't a difficult choice for us when picking out something to demo. Steve Trevor's escape from a secret World War 1 German facility allows the Onkyo to steer his stolen plane zooming and whizzing over our heads. Dirt and grit fly as the baddies duck for cover from his strafing fire, the articulation of which zips around the room. Onkyo's have always had a penchant for an attacking sound and this one is no different, but there's still plenty of punch at the bottom end when bombs explode and grenades go off.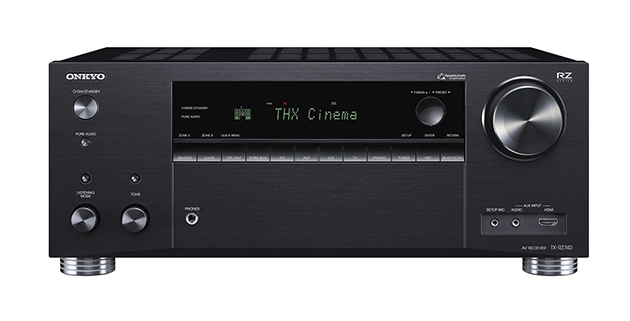 AV receivers tend to not match up to stereo hi-fi amplifiers when playing music but the TXRZ740 is fitted with a premium AKM AK4458 384 kHz/32-bit multichannel Digital to Analogue Converter to address the imbalance. A quick burst of Phantogram's newest track "Into Happiness" via a Tidal stream is enough reassurance that this receiver can hold its own for decent stereo production, though make sure that you move the sound program into PURE AUDIO to tighten up the solidity of the soundstage. The heavily textured synth and bassline are pretty chunky and the TXRZ740 makes sure that it gives us a full-bodied sound. You'll get more detail and separation of instruments on a Hi-Fi amplifier but then you could always use both by using the pre-outs for the front left and right speakers for the best of both worlds.
The FlareConnect and DTS:PlayFi streaming apps are functional and do the job but if you've already got some Sonos gear in the house, make use of the "Works With Sonos" feature. If you have a Sonos:Connect streamer attached then the Onkyo will automatically switch to that input when you start playing music through the well-known multiroom streaming company.
Getting that true cinema experience can be tricky in certain rooms but with a hefty amount of amplification and accurate steering of effects, the Onkyo TXRZ740 will go a long way to giving you the sound you're looking for at home. If this sounds like your cup of tea then why not call your local Richer Sounds and book a demo to see for yourself?
Learn more about the Onkyo TXRZ740.
Author: Steve, Bristol store